so recently, our hero janklow headed out of state to the land of Florida (or, as we are calling it this week, the Gunshine State, a moniker that i cannot take credit for) and as always, i try to come up with some observations for the purposes of joke-making. it's actually been quite some time since i busted out a travelogue update on this site (a short search indicates that it was apparently janklow stars in … Ohio: where everyone is way too nice, which we published on 11.02.2007, which just makes me say, "wow, i guess i DON'T ever go anywhere"), so i figured it might be a great time to have another one happen thanks to Florida. here we go!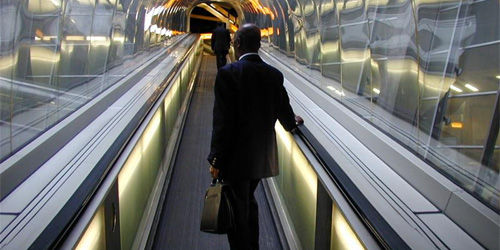 IT IS NOT A GODDAMN RIDE, PEOPLE
chapter I: flying out of scenic Maryland
so perhaps the fact that i have spent a lot of time in airports makes me susceptible to being outraged by the things that people do in them, but i have to come back to something that i have not bitched about in some time: people's inability to correctly use moving walkways. look, guys, they're not rides, they're meant to help you travel through the airport FASTER. and sometimes people are very impressed with seemingly mundane things –see also the number of people who seem to travel to Maryland and then return with massive amounts of scrapple, which i SUPPOSE isn't freely available everywhere, but which i thought we all recognized was "spiced trash meat"– but a moving walkway, being such a ubiquitous part of airports, shouldn't be one of them.
further… it seems like everyone hanging out on moving walkways without moving is doing their best to be as annoying about it as possible: they don't leave for anyone to walk PAST them, they take one step onto the walkway and IMMEDIATELY stand still, regardless of whoever's right behind them, and so on. and you know, there has simply GOT to be social commentary to make about the poor physical condition of the average American and how it relates to peoples' refusals to walk on moving walkways and escalators and all that.
also, when did neck tattoos get so popular? i don't want to bash everyone that has one since some of these people seem like decent-enough folk, but i have long operated under the assumption that tattoos above the shoulder were indicating that you wanted out of society and/or into the judicial system to some extent. still, it seems like whether or not you make the worst assumptions about people, they shouldn't be so popular.
yeah, i know, i haven't even escaped the state at this point in the narrative and i am already LOSING MY DAMN MIND. attribute it to the fact that i hate, hate, hate flying and i will try to make some Florida-based remarks.

"hey, let's fly from Maryland to Florida and then sample their native cuisine of Maryland Fried Chicken!"
chapter II: surviving Florida, probably in part because it is devoid of alligators
so mostly what i did in Florida was some equally non-exciting stuff (hello, little cousin's graduation, an event which was bound to make me feel absolutely old as hell, and it did), but i wanted to attempt to make some observations from my travels anyways:
–once there, i and some relatives found a local eatery called "Maryland Fried Chicken," which, in case you thought this was maybe just a coincidental name based on it being owned by Russell Maryland or something, declares that it makes fried chicken in the traditional Maryland way. now, being a native Marylander, i declare, "obviously we have to eat at this place." in turn, i then realize something: i don't even know what traditional Maryland fried chicken is supposed to taste like. Wikipedia tells me that this is a real thing, so i can't outright declare that this is a clever marketing scam (as everyone wants to eat chicken from … Maryland), and supposedly the chain was started by a Delaware guy who wanted to appeal to guys from Baltimore and the rest of Maryland moving down to Florida for jobs at the time … so i guess what this REALLY means is that i am so used to just eating a bucket of chicken from KFC that i don't even know what my native cuisine is supposed to taste like. sad.
…and then i was scalded by an INCREDIBLE hot container of beans exploding onto my legs. when you add this to the fact that i was also burned by an iron being wielded by my grandmother and injured in some kind of inflatable bounce house-type scenario (we'll come back to this), i have to say, this was a surprisingly rough trip for me.
–at this graduation, the dean (at least, i think it was the dean) seemed to focus his remarks on the recent Boston Marathon bombing and a large pre-paid credit card scam. frankly, it seemed to me like a bit of a downer, what with this being a graduation and all, but i believe an aunt of mine pointed out that this might simply have been an attempt by said dean (if it was the dean) to let the new graduates know that with the current weakness of the economy, they should still be aware that they had options for their futures if they thought outside the box. i immediately had to agree this was the best possible way to take it.
–in the aftermath of graduation, we had a little shindig for my cousin wherein my aunt (because this is the kind of thing she does) got some ridiculous inflatable stuff for a party because there'd be little kids there, including this one that we'll call an "inflatable sports challenge." it's a little hard to describe it: there's an inflatable column in the middle and two kids are harnessed on either side of it, and they pull against each other as they try to dunk a ball. basically, let's just look at a picture:
only the one in question had little raised walls.
now, for kids, this is clearly a sporting challenge, but HYPOTHETICALLY, adults could also use this in a fashion where they're basically competing to smash each other into the center. not that this is what happened. it's also possibly that in a competition against one of my female cousins, i won (thus showing off my mad dunking skills)… and was subsequently drug across the thing into the column on the grounds that, on balance, my little female cousin in question is much more of an athlete than i am and could PROBABLY beat me up. and that's where the abrasive injury i mentioned earlier came from!
–so near where my aunt lives in central Florida, there is a small nature preserve that i wanted to search through for alligators, because i feel no trip to Florida is complete until you've seen a gator, and, with any luck, wrestled it into submission. however, the first time i went to this preserve, it was apparently on fire, at which point my family banned me from going to play in said fire (a decision that, given all my small injuries, may have been for the best). the second time, there was no fire, but also absolutely no gators, and i have to say, this was an INCREDIBLE disappointment. especially when you consider that while visiting that aunt, both someone's stray dachshund AND someone's stray (and very friendly) cockatiel wandered into her yard to hang out indefinitely… and yet not one gator did. i flew out of that state SO SAD about the gator situation.
–also, that preserve has signs that invite you to eat from plants in the preserve. it was admittedly stated in reference to citrus trees, but i still think it sent a weird message. that said, my immediate reaction was, "you know, there would NEVER be a "just eat stuff you find in here" sign in a nature preserve in Maryland." you make of THAT what you will.
chapter III: the conclusion
so i survived all that, flew home, and was returned to my shack in the woods thanks to a timely assist from my Irish sidekick. no gators, light injuries, but on the balance, a solid trip. this place really COULD use a couple more travelogues, i suppose, so there it is, although i don't know what the likelihood of having any additional ones is at this point…