it's the time of year for HBO to either be ending or be preparing to end all my favorite shows, which also means it's time for me to sample their newer offerings and see if anything catches my fancy. this post is not about HBO, however, but about the fact that one such show, Flight Of The Conchords, had an enjoyable moment involving a terribly awesome music video about robots (and how they gassed all the humans). which made me think, have we spent enough time talking about awesome robots? i think the answer is "of course not!" so let's talk about, conveniently, the 13 best robots in film and television, just to keep it better-defined.
but first, to immediately disqualified:
-any and all robots/androids/whatever from Star Trek and Star Wars, which includes Data and C-3PO and R2-D2 and so on. i really don't want to have to debate how they're okay here and suck there and so on. so they're not going to be in the top 13. accept it.
-Transformers and/or Voltron. i mean, yeah, they're ROBOTS, but they're also super-massive (or possibly directed by teams of space rangers, who need space), and i just assume they can't relate to the problems of humans. even though the Autobots are apparently very concerned with the problems of humans. eh, whatever, not on the list! they shouldn't have changed Megatron into a tank!
-Go-Bots. come on, they're shitty knock-offs of already disqualified robots!
and now, the list:

13. "those Astro Zombies robots" (Astro Zombies)
let's get things started with a little ridicularity! Astro Zombies is a terrible movie a colleague of mine (Cobb Van Dam) gifted me with in an exchange of films, at which time it was revealed that this film had little to do with astro-anything and nothing to do with zombies or otherwise being a film that didn't suck beyond belief. but i am digressing here, because this has little to do with robots, other than the fact that the film has little to do with robots … except for an unexplainable opening sequence where awesome toy robots battle and battle for NO REASON AT ALL. in retrospect, the entire film should have been this footage alone.
12. Johnny 5 (Short Circuit)
so while i was brainstorming this robot idea today with a colleague (not Cobb Van Dam), for some reason, this guy says "oh, you better include Johnny 5!" i said "the Short Circuit robot?" he said "YES," and since he's a very big guy and i don't want to make him angry, well, here it goes. while Johnny 5 is sort of a lame-ass good guy, he still has some things going for him: he WAS designed as an ass-kicking military robot (though in spindly, breakable form for some reason), he DOES occasionally fight people (albeit for good), he's essentially pretty clever, and he does frequently declare his intention to kick your balls into outer space, which is a very cutting edge remark for seven-year-olds watching this film. his serious faults are mostly limited to the internet declaring that he has "aroused" eyes at times, his sidekick being Fisher Stevens pretending to be an Indian in an era when a real guy from India could have been hired, and the fact that he will become a disgracefully gold robot by the end of Short Circuit 2. he at least also becomes an American citizen, so, that's nice.
11. Cylons (Battlestar Galactica)
it's important that i break your nerd hearts right now and be very clear about one thing: this is not because of the current show at all, which seems to be mainly about human-looking Cylons that are apparently religious. i don't really know, because i don't watch this show, because they chose to have those lame human-looking Cylons (which i have long assumed to be about saving money). this is, in fact, a celebration of the awesome late 1970s era Cylons, which dominate lesser robots for the following reasons: they're properly devoted to the destruction of humans, they wear cool (if excessive) robot armor, and they played a large part in my childhood as i used my toy Cylon to wail on lesser G.I. Joes. robots are always better when they're just all about gassing the asses of humanity or something.
10. ED-209 (Robocop)
i know this might seem like i'm trying to shoehorn a celebration of Robocop in here because of the Robo part of the name, even though the hero and the coolest robotic villain are both not robots. however, the ED-209 is a respectable robot: it was designed to look "hard and mean," always a good start; it makes crazy jaguar roar noise to express disappointment; and it murders annoying corporate officers EFFORTLESSLY. plus, the thing seems to have a better sense of physical comedy than some of the "comedy stars" of today. not since Buster Keaton has getting stuck in a manhole been so awesome!
09. Ash/Bishop (the Alien series)
welcome to the first of two "not really what i classically think of as 'robots'" exceptions. being as they're more like androids, they run the risk of being total douchbags like Data, but luckily, these science officers are either cold and alien-promoting (Ash) or helpful and wise with grizzled faces (Bishop). plus, they're always getting dismembered in action sequences and then STILL coming through with solid information that allows Ripley to save the day. although, to be fair, Ash is pretty negative about the whole thing, though i might expect that from a dismembered robot.
note: Ash has been pictured above because, despite the fact that Bishop appeared in more films and was basically a "more important" character to the series, Ian Holm is much more awesome than Lance Henriksen. so there.
additional note: yes, i am neglecting Alien: Resurrection's character Call. Winona Ryder steals! her character can't be on my honorable, human-murdering robot list!
08. K-9 (Doctor Who)
i know everyone was thinking "sweet, Daleks," but there are apparently mutants jammed inside them, which is what i get for not knowing shit about Doctor Who. still, there is still the matter of K-9, who easily earns his spot on this list be virtue of being a) a dog, b) a robot, and c) a robotic dog. dogs are awesome! K-9 is less in the vein of "awesome villain" and more of a "sassy sidekick," but at least he warns you of danger, seals off black holes, and otherwise sacrifices his life to save you, which is probably a hell of a lot more than YOUR dog ever does. they're apparently giving K-9 his own series as a testament to his awesomeness (or, at least, theoretical awesomeness), but since i don't watch Doctor Who-type stuff, i'll just have to assume that he gets the power up(s) and saves the day constantly!

07. the Robot (Lost In Space)
i admit that the major reasons for the Robot's inclusion this high on the list are as follows: the Robot has no "real name," which is awesome (it's a nameless Model B-9 Environmental-Control Robot); the Robot is well-known for its sound clips, mainly "danger, Will Robinson!"; the Robot has utterly ridiculous flailing claws; and said claws prompted John Waters to call this robot something like – and i am admittedly paraphrasing something i vaguely recall him saying here – a "giant space queen." what more needs to be said?
06. Mechagodzilla (Godzilla vs. Mechagodzilla)
considering that i trashed on the notion of gigantic robots and their inability to relate to mankind, it would seem like this is cheating, since Mechagodzilla is both massive and uncaring of the feelings of humankind, especially since i recall him mainly fighting with Godzilla after Godzilla became the hero of Japan or something else equally ridiculous for an atomic dinosaur who once made a living mashing Tokyo into the ground to become. however, focus on these key points:
-Mechagodzilla once wore a fake outer Godzilla in a very Terminator-esque move;
-Godzilla, a known badass and atomic dinosaur, always seems to need additional atomic dinosaur help to defeat Mechagodzilla;
-Mechagodzilla is made out of something called "Space Titanium." if i was made out of Space Titanium, i would walk around telling people "do you know why i am better than you? because i am made out of Space Titanium!" ALL DAY LONG. there it is.
05. Robby the Robot (Forbidden Planet)
admittedly, Robby the Robot is a cool jet-black robot who starred in Forbidden Planet, a classic science-fiction film loosely based on Shakespeare's the Tempest, forcing people everywhere to confront the question of "does a sci-fi film become more or less boring when it is based on a Shakespearean play?" but when not menacing young ladies with his 7'2″ frame, Robby also apparently found the time to appear in, as far as i can tell, every other science fiction movie and television show ever. it even appeared on Lost In Space TWICE, which, when paired with the Robot, is one major awesome robot overload. admittedly, in his major role, Robby is clumsy and does housework, but at least he boozes it up. and i can truly respect a drunken robot. plus, look at his absolutely ridiculous robo-face!
04. Roy Batty & other replicants (Blade Runner)
Roy Batty was emo before emo kids knew what emo was, but it still feels like cheating to include him or any replicants on this list for the same reason it felt like cheating to include the scientific androids of the Alien series: they're not "classic robots" in my brain. however, when not delivering all-time top-ten movie speeches to a soggy Harrison Ford, Roy Batty is tearing around mutilating himself (everyone loves nails in their palm), being cryptically sassy (aren't you the "good" man?), making demands of and/or murdering his creator (can the maker repair what he makes?), and inspiring White Zombie to make rockin' tunes (i want more life, fucker). he's also very good at chess and talks about orcs or something like that. i mean, Batty is not just the name of a robot in this movie, it's how he lives his (somewhat robotic) life!
03. Marvin the Paranoid Android (Hitchhiker's Guide to the Galaxy)
Marvin might place higher on a list about robots in books (which would consist of about 13000 Asimov robots and one bored janklow), but he still sneaks in through his inclusion in less-than-stellar films. actually, confession time: i didn't watch that movie, because i didn't hear anything good about it, and i'm not one of those Hitchhiker-crazy nerds; i may not actually have even read that entire series. still, Marvin is a hilariously, hilariously depressed robot. he's turbo-smart, he depresses computers to death, and he's been the inspiration for one rockin' Radiohead tune, which is a slight upgrade over inspiring a White Zombie tune for most people.
02. Robot Devil (Futurama) … and friends
the thing about Futurama is that, coming after years of science-fiction and robots and the like, it's packed to the gills with hilarious, awesome robots: Bender Bending Rodriguez, Robot Santa, Calculon, Flexo, Malfunctioning Eddie, Boxy, the Crushinator, Reverend Lionel Preacherbot, Clamps, and the list goes on and on. actually, i wish it could include Fry's "battle droid" persona, but let's not get carried away here. but rather than pack the list with their robots, it's best to pick the best one and let the rest be his "assistants" here on the list. and that honor goes to none other than the Robot Devil. why, you ask?
-he's somehow the Robot Devil while apparently lacking supernatural powers;
-he has a deep respect for the music of Charlie Daniels (but who doesn't?);
-he makes sad animal noises when you clunk him on the head with a solid-gold fiddle.
but most of all, i mean, come on, he's a devilish, singing, dancing machine! and he has a cool top hat! and he cuts people's hands off with ridiculous ease! why do i have to keep defending this choice? it's a very clear-cut one!
but he's not the champ. who is?
01. Necron 99/Peace (Wizards)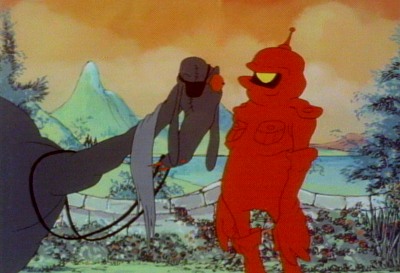 back when i was writing about zombies, i noted the following: "when i was a child and my parents took me to the local video store (which is now out of business), there were two movies that i wanted to see based on visual advertising – Wizards (because of its excellent cover art) and Zombie (which is what we call Zombi 2 in the states)." so you had to figure it was only a matter of time that i'd come back to the former, right? let me let the Wiki describe this awesome robot: "The situation in Montegar is complicated when the president is assassinated by Necron 99, a robot sent by Blackwolf to kill the believers in magic." i can't make this stuff up. or, actually, i probably could, because it's well beyond the realms of normal wackiness. but still, either way you slice it, he's a villainous automatic-weapon-packing, jumpsuit-wearing robot. with a sassy antenna. true, for most of the film he's become a fucking hippy version of himself, but we'll always have those early days of Necron 99.
honorable mentions: our old colleague, TTR (because of his unadulterated sass); Gort from the Day The Earth Stood Still (for that fantastic robot suit); those sassy robots from MST3K (because of all the joke-making and everything); the Maschinenmensch from Metropolis (classic cinema points and all); robot gunslinging Yul Brynner from Westwold (because, come on, it's Yul Brynner!); the Terminators (Arnold isn't acting, the T-1000 sucks, and that T3 terminator makes me have mixed feelings); and that burning robot from the Simpsons that asks "why was i made to feel pain?" (for the obvious reasons)
have i missed any superior robots? of course not, but feel free to whine away.