i'm afraid i'm going to have to violate my personally-enforced, pre-planned topic schedule and talk about [1] the topic i was going to talk about next week because our hero janklow will be on an adventure across America [2] starting tomorrow, and i figured i'd probably talk about THAT next week, or pled exhaustion then and just rehash something fun (celebrities are stupid, O'Malley angers me, etc).
anyhow, THAT topic was going to be "boxing, and the awesome dudes of boxing" because November 3rd will be bringing us the sweet unification fight between Joe Calzaghe (our hero) and Mikkel Kessler (our enemy; if he wasn't Danish i might be able to claim he had a Nazi name or something). and what better way to celebrate an occasion such as this than with a list?
JANKLOW'S 13 MOST FAVORITE BOXING GENTLEMEN


i suppose it's appropriate that Ali seems to be gazing at the boxers to his right with watchful loathing, though Boom Boom doesn't seem to mind
13. Cassius Clay (Muhammad Ali)
to be frank, i really am not a huge fan of Cassius Clay: he celebrated too much when Malcolm X was killed, (despite his later conversion to Sunni Islam), he talked a little too much shit about Joe Frazier, and his life inadvertently gave Will Smith yet another film role. still, it's hard to deny that he was an excellent boxer and a charming guy, unless you're Joe Frazier and you desire to throw him into a fire. however, i remain disappointed that he ditched a name like "Cassius Clay" for the super-original Muhammad stuff. come on, man, Cassius is an awesome name!
12. Ray Mancini (Boom Boom)
rumor has it that "Boom Boom" Mancini was an excellent boxer with an eye-catching whirlwind style who just happened to be one of those guys who inadvertently killed another boxer (although technically not in the ring in this case), a feat that's pretty hard to achieve when you consider that Mike Tyson and George Foreman were punching machines that couldn't do it (and Foreman really, really DID want to kill someone in the ring). but i have to admit that Mancini's really on the list because of that Warren Zevon song, which was pretty good stuff.
11-10. Jack Dempsey/Gene Tunney
these two guys are being included – and included as one awesome, unified team – as a tribute to the ancient era of boxing when men were men and boxing matches lasted hundreds of rounds, these two being twof our most beloved icons from that era. plus, Tunney served with the Marines in WWI, which i choose to interpret as "Tunney stalked and killed proto-Nazis with an America flag during the early part of the 20th century." now let's have a moment of silence in honor of my fictionalized history.
09. Mike Tyson (Iron Mike; Kid Dynamite)
honestly, while i love to criticize the hell out of Tyson for not knocking out many people of consequence (if any) during his storied run to the top, it's worth noting that not only was it fun as hell to watch him knock out those possibly mediocre fighters in seconds, but he also helped bring us Mike Tyson's Punch-Out (which i never actually owned as a child) and the character of M.Bison/Balrog in those Street Fighter games. and then there's the whole matter of the man's notable quotables (with the added benefit of his distinctive voice): "my style is impetuous, my defense is impregnable, and i'm just ferocious. i want your heart. i want to eat his children. praise be to Allah!" i really can't make that kind of thing up.
08. Thomas Hearns (the Hit Man; the Motor City Cobra)
if nothing else, Hearns taught me the value of a good nickname: i was well aware of him and his most excellent nickname long before i knew anything about his boxing skills and flicker jab and getting scammed by Sugar Ray and so on. i'm not going to say that there aren't any better nicknames, but if you want to top the Hit Man, well, you'd better be ready to dazzle me.

watch out, Marciano, that guy on the far right's trying to break that 49-0 record…
07. Rocky Marciano
not satisfied with his "only heavyweight champion in boxing history to retire without a defeat or a draw in his professional career" status, Rocky Marciano decided to live on beyond his death as fuel for racial-divisive debates about the greatest heavyweight of all time. apparently, the white folks are very fond of Rocky. he also knocked out Muhammad Ali in fictional computerized form in that whole "Super Fight" deal (and in the lucky 13th round, no less), and that's good enough for me.
06. Jake LaMotta (the Bronx Bull; the Raging Bull)
much like Boom Boom's inclusion, i admit that this is sort of less about his excellent boxing career (only knocked down once in 106 fights) or crazy Mafia connections (taking a dive for Billy Fox and then ADMITTING it later) and more about the fact that his life and times are responsible for the excellent film known as Raging Bull. again, yeah, sort of shallow, but tell me that wasn't a great film.
05. George Foreman (Big George)
the image of George Foreman that stands out most to me is from before his days as a loveable pitchman of grills and Meineke, back when he was a terrifying punching machine, just pounding heavy bags almost in half before Ali would practice on them in Zaire (shown nicely in the documentary When We Were Kings) … and then sitting around in that wacky floppy hat of his. seriously, that hat scares me more than anything else about frightening Foreman from back in the day.
04. Bernard Hopkins (the Executioner)
much like Hearns, Hopkins is blessed with an awesome nickname, backed up with some impressive boxing (12 years of boxing unbeaten, unifying four different titles, beating up De La Hoya, 20 title defenses) and a sincere rags-to-riches story. what would really make this complete, though, is if i could find a link to this SI article wherein Hopkins legitimately dispenses penny-pinching advice (as is his way in real life); it's hilarious but, again, totally sincere.
03. Joe Frazier (Smokin' Joe)
strong, talented, sound fighter who was "merely" the undisputed champ for three years in an era he shared with Ali and Foreman and Norton; nice guy who looked out for Ali only to have Ali throw it in his face (if only for show), leading to the reason Frazier sort of takes credit for Ali's Parkinson's. however, his fight in 1975 against Ali (the "Thrilla In Manila," and their third fight) easily gets him a place on this list: having a left eye blinded by a cataract and a right eye almost closed by Ali's punches, Frazier demanded to continue to fight him for another round essentially BLIND, still refused to be knocked out by Ali, and after trying to fight a 15th round, had his coach throw in the towel. this is seriously on the level of some unbelieveable stuff. and if that's not good enough for you, he was also on the Simpsons.
02. Joe Calzaghe (the Pride of Wales; the Italian Dragon)
as seen by the Welsh flag the walls of my headquarters flies, i may have a soft spot for the nation of Wales, and this includes the half-Welsh Calzaghe, he of the 43-0 record, 10-year reign as title holder, and fragile left hand that seems utterly ridiculous in a left-handed boxer. it's my sincere hope that he'll beat Kessler (pushing his streak to 21 title defenses) and maybe keep going long enough to get to 50-0 and top Marciano's record as a champion boxer, but i don't know if the people and teams i root for are that lucky.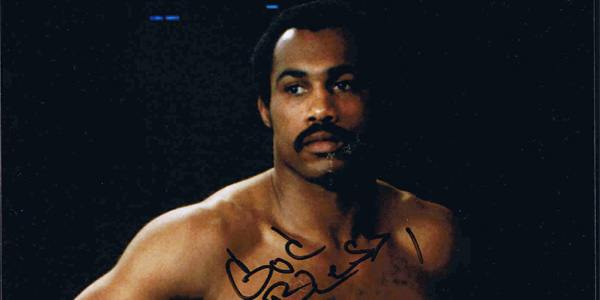 this is the kind of thing that happens when you're pulling up random photos on the internet, but i think the "god bless" is a nice touch
01. Ken Norton
he beat Muhammad Ali in a fight where he literally broke the man's jaw; i think this is the closest anyone's come to shutting Muhammad Ali up. in an era where (once again) Frazier, Ali and Foreman were walking the earth and trying to killing Norton in the ring in the process, i'm going to tout this jaw-breaking, championship-achievement as something very special.
i admit my list skews towards "not always heavyweights" and "people who hated Muhammad Ali," but that's how these things go in the world of boxing. or something like that. anyway, come November 3rd, go go go Calzaghe!
[1] yeah, yeah, everyone who has read at least two (2) of my posts at this point knows that "talk about" is fancy internet slang for "make a list of 13 items regarding." so it goes.
[2] and by "across America," i of course mean "to Ohio and back."