so, recently a little film called American Gangster came out, starring Denzel Washington and Russell Crowe and, most importantly of all, the RZA, and it's a pretty good movie. so good, in fact, that i don't think i need to convince you of the fact: let's all just agree that it's fucking awesome and be done with it. (though i will say that one highlight of the film for me was, when Denzel was about to lose it because they'd shot AT! MY! WIFE!, a guy back and to the right of me in the theater was like, "oh, here comes the Denzel face!" and then he made the face and pounded his chest. it was awesome.) however, what it brought to mind was another film from one decade past, wherein the guy who plays Bumpy Johnson in American Gangster plays a goon working for Dutch Schultz and Laurence Fishburne plays Bumpy Johnson: Hoodlum.
…and it's pretty fucking terrible.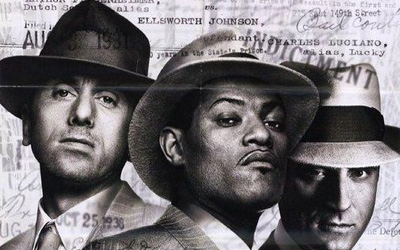 seriously, just look at this poster: no good can come from this at all
…and i would know, because i think i've seen this movie about 13000 times. it comes on cable constantly (in fact, it's on RIGHT NOW), and i'm drawn to watching it like a train wreck: i stop what i'm doing, stare in horror and think to myself "my god, those poor people."
direction: look, Bill Duke has a cool-as-hell name and i will always have a soft spot for him after he appeared in some ridiculous roles alongside Arnold Schwarzenegger in the 1980s (keep on shaving with that disposable razor in the jungles of Central America, Bill!), but please don't try and tell me he knows how to direct a film. okay, i grant you that i haven't seen every last work of his (Deacons For Defense might have been good, i don't know), but for crying out loud, the man directed Sister Act 2. SISTER ACT 2. i rest my case. and the direction in Hoodlum seems a little sloppy and he seems to be getting next to nothing out of the cast. there's one scene in particular – a shoot-out between Dutch's people and Madame St. Clair's people – that seems oddly shot on a too-large and thus blatantly empty street; another stand-out oddly shot scene has Laurence Fishburne cutting a throat in a hotel – there's weird slow-motion in there for no reason. everything just seems poorly framed, oddly transitioned; well-intentioned, maybe, but not good at all.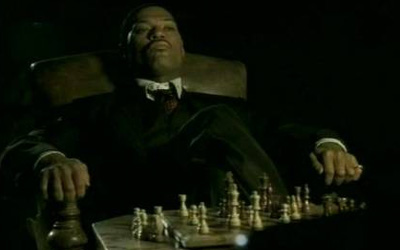 seriously, Laurence, what do we call roles like these? "poor life decisions"
acting: i don't know HOW Laurence Fishburne agreed to do this film, maybe he's atoning for being a good actor in better films, or something like that. but it's logical to cast him (he IS awesome) and hope that he can carry this film, which he can't really do simply because this movie isn't any good, and the rest of the cast isn't doing him any favors at all. examples:
Tim Roth: he cannot act, and is intensely overrated by people that watch movies as far as i can tell. yeah, i love Reservoir Dogs to death, but he's not the reason it's any good and i could replace him in a heartbeat in that (and every other film) and not feel sad. oh, and he seems to fear that when you're on a movie set with Charlton Heston and your kids, Heston's likely to, you know, shoot your kids. proof of retardation found!
Vanessa Williams: i don't care how many people think she's good-looking (i mean, okay, she's good-looking), she's not a good actress. so she's maybe servicible in films where she doesn't have to do as much work, but here it's just a lot of nonsense and her trying to give impassioned speeches to Fishburne. he doesn't care, and neither do i.
Andy Garcia: i actually don't hate Garcia, but while he doesn't shine here, a colleague of mine would want you all to know that Andy Garcia being in a movie is proof that it sucks. but come on, Black Rain was a solid film! i mean it! sorry if it sounds sarcastic!
Chi McBride: seriously, seriously, Chi McBride is the worst actor ever. and every scene he's in in this movie is him delivering lines terribly, trying to be hilarious with accents, poorly acting drunk and god only knows what else. his acting in this film makes me physically sick, and also makes me want to punch him in the face as hard as i can.

seriously, right in the face, as hard as i possibly can
the rest: beyond the above, this cast is clogged with overactors (Richard Bradford) and bad actors (Loretta Devine) and guys that Bill Murray is supposed to be declaring have no dicks (William Atherton). actually, i guess Clarence Williams – Bub in this film, Bumpy in American Gangster – does a pretty solid job, but i also like that guy, so maybe i'm being generous. there's also a guy (i THINK it's Ellis Foster) who plays an undertaker and who is just uncomfortable to look at. and that whole thing with the Salke Brothers was just creepy. don't get me started on THAT one.
conclusion: please, please, please don't watch this film, because i don't want you ending up like me, watching it once, being scarred for life, and watching it again. and i'm pretty sure the way this film ends, it's supposed to come off like Bumpy Johnson set everything right with everyone and left his life of crime behind to be an awesome dude. what kind of shit is that?