well, you see, recently, i was working on making a mix CD for someone (a man, not a woman, so this task was less about expressing my romantic emotions through the arrangement of Cheap Trick and Live tunes and more about making a fairly random compilation of Southern rap tunes) and this person made some playfully mocking remarks about my self-described collection of heroes, which i had thought i could generally defend. which i'll do right here in order for us to have some kind of ridiculous baseline:
-Raymond Carver: well, frankly, let's say you want to go to school and get a degree in English (because you're not concerned about getting a real job or having a successful career) and you think, hey, maybe i'd like to write short stories about regular idiots instead of extraordinary people and memorable deeds, and while doing so, i don't want to have real financial success and, also, i want to be a drunk. well, see, then Raymond Carver is probably your hero.
-Tim Brown: beyond that i grew up a Raiders fan (for some reason) and that Tim Brown was "Mr. Raider," the fact that one of the greatest wide receivers ever to play the game of NFL football will never have a championship ring is a solid reason, i think, to make him my hero; this "lack of champion status" is also the reason i used a lot of my free time (and some newspapers) to construct a shrine to Allen Iverson's awesomeness.
-Malcolm X: my succinct quote on this one is "well, Malcolm X and i both enjoy wearing dark-colored suits and glasses while we stand near our windows clutching M1 carbines and checking out the surroundings. oh, and the hating white people thing."
-Leopold 'Bear Cub' Okulicki: sympathy pick on the grounds that Bear Cub was a Pole who avoided German capture in 1939 to fight on underground, was then captured and tortured by the NKVD, was then released and fought in the Warsaw underground against the Germans again, again avoided German capture only to again to run afoul of the Soviets and be imprisoned, probably tortured again, and then executed. so that's upbeat.
-Albert I of Belgium: a monarch whose uncle and predecessor was a notorious scumbag (see also: the Congo, rape of) and whose son was a notorious scumbag (see also: Nazi occupation of Belgium), he decided to break with his heritage and be awesome and fight the Germans like crazy, reentering Brussels as an Allied commander.
-my grandmother: uh, the best person ever?
so i have to admit after all those sarcastic remarks that maybe i need a new hero, robots not counting and Sam Elliott being less of my hero and more of "the messiah." and that's when it struck me: KIM JONG-IL!
so Our Glorious Leader Kim Jong-Il is going to be my new hero. i'd like to think i can make a good case for it, with help from the internet. here goes!

CLAP YOUR HANDS FOR KIM JONG-IL!
SOME REASONS WHY KIM JONG-IL IS THE BEST PERSON EVER
and there are many of them!
KIM JONG-IL IS NOT VERY TALL
you know, i'm not going to say this because i'm 5-foot-nothing myself, but let's be frank about this: short people are much better than tall people, because we have to pack all our awesomeness into such little packages. if Napoleon was to fight Gheorghe MureÅŸan, Napoleon would whip that Romanian largely on the grounds that he would use his compact power to overcome MureÅŸan and his career 1.48 blocks per game. where am i going with this? well, Kim Jong-Il is a short man because short is the way of success! and this is a good reason for him to be my hero.
KIM JONG-IL DOES NOT DELEGATE WELL
during performance reviews at work, i've been told to stop doing everything myself and delegate some of that work to subordinates. nonsense, i say! because do you know who else doesn't delegate anything he can help? Kim Jong-Il! the internet tells me that he "personally directs even minor details of state affairs, such as the size of houses for party secretaries and the delivery of gifts to his subordinates." a man after my own heart! sure, a lesser man might say that this is why his country as trouble with things like "feeding itself," but that's why such a person is a lesser man.
KIM JONG-IL PREFERS SILVER TO GOLD AND MERCEDES TO BMW
…as i myself do as well; silver is classy (and, when worn with black, mimics the color scheme of my Oakland Raiders), gold is tacky. and that's why my hero Kim Jong-Il eats his airlifted lobsters with SILVER chopsticks, not gold ones: because he's a classy guy! oh, and supposedly they have mystical powers that detect poison. actually, maybe i should have titled this reason "Kim Jong-Il believes in the best mystical powers ever." further, in life, one is often confronted with the burning question of "what's better, Mercedes or BMW?" again, like myself, Kim Jong-Il runs with Mercedes over BMW, going so far as to direct his nation's resources from things like "feeding starving people" to more pressing concerns like "buying 200 Mercedes Benz S500s."
KIM JONG-IL IS A FILM BUFF
i myself prefer the low-brow pleasures of black-and-white Japanese films and anything starring Robert De Niro; my hero Kim Jong-Il has better tastes, instead opting for American slasher and action films (especially Rambo) and "and any movie with Elizabeth Taylor." is it inglorious of me to imagine my hero watching Ivanhoe and screaming with glee? i don't think so; this is the kind of thing awesome heroes do! he also apparently loves movies to the extent that he abducts foreign nationals not to learn their spy secrets, but rather, to build a North Korean film industry. he even devoted his awesome talents to creating the film Diary of a Girl Student, which depicts "the life of a girl whose parents are scientists." uh… okay, even i can't defend that. but heroes are allowed to make mistakes!
KIM JONG-IL HAS GREAT, GREAT HAIR
what was that?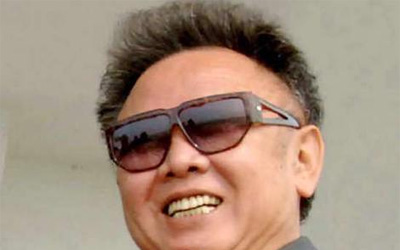 KIM JONG-IL HAS GREAT HAIR! wait, what?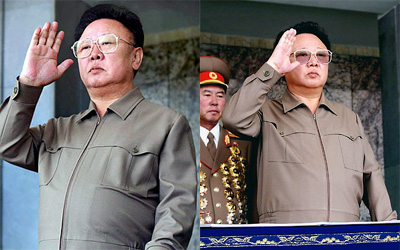 like i said, KIM JONG-IL HAS GREAT HAIR! still have doubts?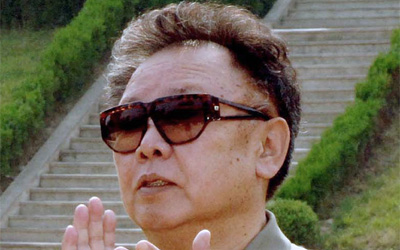 to reiterate, KIM JONG-IL HAS GREAT HAIR! yeah!
KIM JONG-IL IS SELDOM BROADCAST
much as i shun the use of the telephone (an evil creation that i assume was developed by the cabal of 14-year-old girls named Tiffany and Heidi that control the capitalist nations' economies from behind the scenes), Kim Jong-Il does not broadcast his voice much either, limiting it to a single broadcast in 1992: "glory to the heroic soldiers of the People's Army!" or, in other words, everything he's said in public has been 100% awesome. i don't have such a strong track record myself, but then, that's why Kim Jong-Il is my hero.
KIM JONG-IL IS AN INTERNET EXPERT
well, it's been said by my betters, so here it is: "Kim also refers to himself as an Internet expert." yes, that's right, in the not-for-public-broadcast words of my hero, Kim Jong-Il said: "I'm an Internet expert too. It's all right to wire the industrial zone only, but there are many problems if other regions of the North are wired." forget all that nonsense about industry matters, here's the main point: Kim Jong-Il is an internet expert, which i hope to be one day. but it's okay to be lesser than your hero.
KIM JONG-IL IS A SKILLED SPORTSMAN
beyond being the best short man to play basketball since… uh… well, Spud Webb was pretty short… but anyway, beyond being a basketball god, Kim Jong-Il is a golfer who apparently "routinely shoots three or four holes-in-one per round." now, i don't claim to be a golfing expert or anything (my sports are more along the lines of "fencing" and "synchronized swimming, which is not really a sport and which i only mention here to insult it"), but it seems to me that anyone who does this routinely must be just about the BEST.GOLFER.EVER. that's my Kim Jong-Il!
KIM JONG-IL BELIEVES IN VERY SPECIFIC BENEFITS OF DEIFICATION
Kim Jong-Il has apparently deified both his father and himself, a process also practiced by Roman emperors and myself (well, i am at least trying to found a religion that is practiced by one of my co-workers wherein i fill the roles of "deity" and "pretty awesome guy," but this is just a start). now, generally speaking, the main thing here is talking about said people being with other awesome gods in heaven and generally being benevolent, as well as promoting celebrations in these new gods' names; Kim Jong-Il, however, apparently has people teach that he and his father did not and do not "urinate or defecate like mortal humans." wow… specific, and yet genius! also, the mere mention of his birthday has been known to make free, spontaneous celebrations at gunpoint break out across North Korea!
KIM JONG-IL HAS NUCLEAR WEAPONS
and nuclear weapons are the coolest!
well, in closing, writing this defense of Kim Jong-Il has made him not really my hero anymore. i mean, come on, he doesn't even urinate like a moral human! but luckily for me, Kim Jong-Il's trained assassins have made it clear that my love for Our Glorious Leader Kim Jong-Il will never end! great success!