so, originally, i was going to go see Hellboy II and the Dark Knight back-to-back (at least back-to-back in terms of days, because i hear the Dark Knight is 13 hours long or something) and then try to come up with a fictional battle of "which is better, Hellboy II and the Dark Knight" wherein i somehow claim the former wins despite its massive amount of creepy faeries. instead, i scheduled in an incredibly macho day of some light gardening and playing with a puppy (which did, in fact, once again attack my face with all the biting). which brings us to our vacation 2008 update: a vacation from getting anything accomplished!
still, i would feel bad if i skipped this week's update because of my desire to spend a week sitting in a kiddie pool drinking beers (which won out over "lying naked in a bathtub covered in ice trying desperately to avoid all that heat"), so here we go with some random observations for the week and all that.
plain black t-shirts are apparently in violation of some dress codes
this almost got titled "headbutting people repeatedly can lead to complications." and granted, that part might seem self-evident, but i assure you that the LAST time i had an alcohol-enhanced, obstinate bout of head-butting, things went much more smoothly. this time, however, things didn't go as well: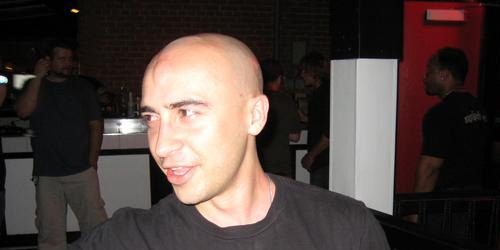 i don't seem very fazed by that massive knot (or people trying to lick it, apparently), but then again, i was heroically drunk
yeah… it seems that listening to random rock bands (including that of a friend) while people drink vodka poured into their mouths by tattooed women may result in a situation where a) i demand head butts and b) those vodka-swilling people deliver them. also, you probably shouldn't have all of these head butts occur in the EXACT same spot. i did, however, decline to, as originally planned, cut open that massive knot and see what was in there (i was hoping for spiders). more relevant to the title, though, is that apparently the plain black t-shirts both myself and a colleague were wearing violated a dress code of some sort. okay, seriously, guys, it's Baltimore: what the fuck kind of dress code is this? plain white t-shirts, whatever, but now with the black t-shirts? this just seems lame.
Anderson Silva is the greatest fighter in the world (well, that's not named Joe Calzaghe)
i have to say, it's very frustrating to hear everyone on the internet talk about Affliction being the greatest promotion ever with the greatest fighters ever and blah blah blah … seriously, people, could we be a little demanding in what we watch? for crying out loud, Donald Trump and DON FUCKING JOHNSON were wandering aimlessly in the ring at one point. there is no reason that Don Johnson should have this kind of uncontrolled access to professional fighters. or anything, really; it's not fucking 1984 anymore and Miami Vice isn't on the air anymore. Fedor remains awesome in a way limited by who he fights, but come on, this organization was going to let his Russian Mafia-affiliated brother fight. oh, wait, what am i saying about him being in the Russian mob?

i don't know where i would get the impression that some people are affiliated with organized crime
anyway… it might be my affection for all things spider-related, but i'm always much more impressed with Anderson Silva. he's got "precision that is so precise"; his haircut is excellent; and his Portuguese, while incomprehensible, doesn't really need to be comprehensible: it's effusive and there's always something in there about loving America. and while Tim Sylvia looked healthy after Fedor whipped him, Irvin's face was smashed in righteously after 61 seconds. i'm just sayin'.
an album is released with Zack De La Rocha on vocals? really?
so despite the fact that Zack has been teasing all of us who fondly recall Rage Against The Machine from our misspent youth with the promise of "solo albums" and "side projects" and "uh, upcoming music, i swear" for years now, it seems somehow someone got him in a studio long enough for a 5-track EP to be released. this is mostly shocking to me because i have seen him produce tracks with guys like Trent Reznor and Roni Size for some time while STILL always managing to not give us a real solo album; De La Rocha is also one of the few artists about whom weird stories like "he's not recording because he's off in the hills of Mexico or something" make you think "eh, that's possible." still, sometimes these things work out. and this EP kind of rocks.

i liked both of these bands better the first time… when they were called Rage Against The Machine
but here's the thing: someone told Billboard that the EP sounded like "Led Zeppelin meets Dr. Dre." THIS IS THE WORST DESCRIPTION EVER. because not only is it inaccurate, but you also KNOW it's clearly inaccurate before you even hear the EP. that shit cannot be true! anyway, here's the real thing: it sounds enough like RATM to be weird, in the way that Audioslave is weird. RATM rocks, and that's who i want to hear, so why would i want to hear RATM with a poorer vocalist like Cornell? or a poorer backing band (De La Rocha on keyboards and Jon Theodore on drums will NEVER top Tom Morello)? just give me the damn reunion already! anyway, i bought this EP and i would say that Zack makes everything sound better, even if he IS some kind of crazy left-wing terrorist or whatever.
anyway, so, that's it for now. i'm trying to relax here! but as a closing note, i DID get this creepy birthday card recently:
seriously, this thing haunts my dreams. i don't know what else to say.