if i might paraphrase noted political pundit Chris Rock, my opinion as to the result of this election can be summed up with "Obama supporters too happy, McCain supporters too mad." at this point, i may actually be apathetic enough to really have no opinion on the election. but although my body sickens and withers in the face of political discussion, it would be remiss of me to have NO update about this topic; after all, i DID make one update about the election in May. so let's do this thing. also, just for backup, i'll bring my robot friend along again. he seemed to enjoy himself last time.
I. CLUCK YOUR TONGUE, STROKE YOUR BEARD, TALK ABOUT "WHAT'S TO BE DONE WITH THIS OBAMA"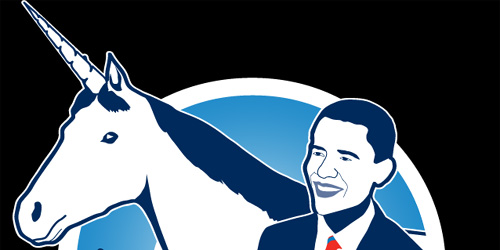 for some reason, there are a TON of images featuring Obama with unicorns on the internet; i'm not sure what's going on with all that, but there it is
so Obama will be my next president; good for him, i suppose. actually, while i have some questions about how that's going to work out, my REAL concerns mostly address the variety of Obama supporters out there. yes, i know none of them read what i write on the internet, so let's just treat this as a rhetorical exercise.
so, the big question: why are you so happy? oh, i get that you're pleased your candidate won; this isn't a question followed with some "don't you realize your guy sucks" discussion of policy. no, you see, i know two or three Obama supporters, and a ton of you guys seem to be having some religious experience. there's all this talk of tears and being speechless and unable to describe the moment. so i'll do it for you: "this candidate i really like won the presidency and i think that's pretty cool." see how easy that was? look, i'm not trying to be difficult here, but there's SUCH an outpouring of emotion that i cannot make sense of it. granted, i didn't vote for the dude, but let me make sure you're aware of a couple of things:
–he wasn't actually running against Bush, who would have been gone in 2008 either way;
–this ridiculous amount of emotion is really, really setting you up for the inevitable disappointment.
true, it might not seem like that now while you're rooting in the slop of your victory, but you know all the things you love about what Obama "stands for?" he's probably already changed his mind on them. or he's going to. admittedly, i'm cynical, but what the fuck is he really going to do in the name of "CHANGE?" appoint different people to the Cabinet? even i could do that.
in short, what i am saying is this: if you CRIED because Obama won, there's a problem there.
also, here's a brain teaser that a relative and i were debating: we know a cousin of ours that's a) a fundamentalist Christian and b) very pro-gun. he declared his intention to vote for Obama because of Colin Powell's endorsement, but he also declared that Obama was most aligned with those two topics i mentioned. is it just us, or does that not make sense?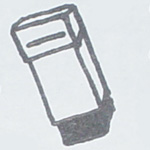 "I HAVE TO AGREE WITH THE MEATBAG JANKLOW ON THIS ISSUE, IN THAT YOUR DISPLAYS OF EMOTION ARE EVEN MORE DISTRESSING THAN USUAL. ALSO, OBAMA STILL REMAINS UNABLE TO MEET MINIMAL ROBOT STANDARDS FOR TRAVELING IN THE HARSH ENVIRONS OF SPACE."
II. McCAIN IS NOT A FRIVOLOUS THING; HE HAS LITTLE, IF ANYTHING, TO DO WITH A DISOBEDIENT WHALE

let's discuss this picture for no reason: granted, i know he's a senator and all, but he couldn't have worn something besides a suit to go with all the body armor?
now, as you can probably imagine, on the Republican front, there's a lot of recrimination and blame as to how this election went so wrong for said Republicans. i don't waste a lot of time with that; i just blame Bush. i mean, okay, i used to wonder why people blamed EVERYTHING in life on Bush, but now i find it very liberating. Bush is the reason that McCain lost in 2008, the reason that Ehrlich lost in 2006, the reason that the Democrats control Congress, and, i'll say it, the reason why little kids get leukemia. you think that's funny, don't you, Bush? that little kids have CANCER because of you? YOU FUCKING MONSTER!
but seriously now, i have given some angry, profane rants about some various personages as a result of this election, and while i generally keep them between those of us that represent the noble elephant and his associated political party, i'll give you a taste:
why is it that the conservative faction of the GOP seems to think that the moderate faction of the GOP (that includes your hero, janklow) always has to bend to their demands? case in point: there was all this angst from them after Romney/Huckabee got shot down in the primaries, what with them claiming they wouldn't turn out to vote if they weren't appeased … and thus, we got Sarah Palin as a vice-presidential pick. THIS IS FUCKING RETARDED (and believe me, i was much more profane about this the first time around). if i have to vote for McCain/Palin and hold my nose while doing so because it's better than the alternative, you're telling me you couldn't do the same and vote for McCain/Lieberman? and so on. that rant actually went on for some time; i can't recall all the specifics of it, but it was righteously profane.
also, i could make some jokes about Palin here (i do have some harsh ones), but the funny thing is that my objections to her selection prompted my grandfather to call me sexist, which is just ridiculous, because a) not only am i almost certainly less sexist than him, as he's a salty old dude who was born in 1879 or something and i'm an enlightened child of the modern age, but b) i have said and done a TON of things more sexist than merely not liking Sarah Palin. and yet this is what i get the label as a result of? get the fuck out of here!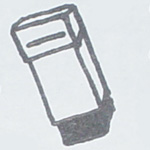 "AS A ROBOT, I CANNOT TRULY FORM SYMPATHETIC EMOTIONS FOR McCAIN IN HIS TIME OF LOSS. ALSO, MY CONCERNS ABOUT McCAIN'S CALLOUS HANDLING OF MACHINERY SUCH AS JET AIRCRAFT DURING HIS YOUNGER DAYS HAVE NOT BEEN SATISFIED BY HIS LOSS."
III. VOTING IN MARYLAND, AKA "EAST COAST CALIFORNIA"

Edgar Allan Poe: fighting against the dangers of voting in Maryland since 1849
so before the election, i made some noise about not bothering to vote; i've got a track record of participating in every primary and "real" election since 1998 or so, so i figured i was due for a break. unfortunately, not everyone agrees with that theory, so i said to myself, hey, let's see if it really mattered that i voted. the results?
screen #1: president and vice-president of the United States: well, i didn't vote for Obama, but not only did he win my state's electoral votes easily, he won the election. so, clearly, it wasn't necessary for me to weigh on this. also, it turns out that "the illustrious janklow" is NOT a legitimate choice for a write-in.
screen #2: representative in congress, congressional district 5: everything else on this screen was a single candidate election (guess who won) or a "continuance in office" vote, which always go through. that said, long-standing congressman Steny Hoyer was re-elected to his 15th term, despite my voting against him, making my vote unnecessary. reasons why i don't support Hoyer? well, a) i've met the guy, and he struck me as a scumbag and b) his name is fucking Steny. STENY. if his parents couldn't be bothered to give him a real name, why should i give him my vote?
screen #3: constitutional amendments about early voting and slot machines: i don't really have a position on early voting, but it passed by a large margin, making my vote unnecessary. and as far as the slots go, i violently oppose them because of Martin O'Malley's two-faced nature. he hated slots when Ehrlich wanted them, but now that he's the governor, he thinks they're a great idea. and the government can't decide if they'll save our budget or horse racing; still, they easily passed over my objections… making my vote unnecessary. though they DID cause me to hear a horse racing promoter on the radio compare the need for slots to the Colts leaving Baltimore, which was crazy because his position a) was such a shameless, shameless attempt to tap into an emotional event in Maryland that's completely unrelated to slot machines and b) made it seem like the Colts were 100% in the right as to how all that went down.
screen #4: eh, boring shit: not really important. because, really, if the ONE thing my vote effects are a couple of charter amendments for my county, i still think the whole thing is a waste of my time.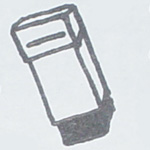 "I HAVE LONG SAID THAT YOU WOULD BE BETTER SERVED STAYING HOME AND HELPING MY POLISH MY FUSION REACTOR, HUMAN. LIFE WOULD BE BETTER FOR YOU IF A COUNCIL OF ROBOT OVERLORDS WERE MAKING ALL YOUR DECISIONS ANYWAY. HOWEVER, I AGREE WITH YOUR STANCE ON SLOT MACHINES. HOW LOGICAL IS RELYING ON PROJECTIONS AS TO THEIR PROFITS IN A SUDDEN ECONOMIC DOWNTURN?"
yeah, that robot's kind of an asshole, but it does make me feel better when we agree. still, next time, i figure i should get to skip voting without being called a "dumbass" or whatever other label is appropriate for non-voters. okay? okay.