so i'm not sure EXACTLY how this topic came up; there was a conversation, people were talking about things, i was probably rambling about something completely random (like, say, Dean Martin), and so on. and the next thing i know, i was declaring that Dean Martin was probably the second coming of Jesus Christ. now we all say ridiculous things, but as we started to mock my concept… it actually seemed to be working out. and that's when i realized that i might not have been colorful and hilarious as much as 100% accurate. and thus, my idea for yet another religion was born! (i have been known to consider such notions once or twice before.)
disclaimer: to all you crazy religious types that MAY, you know, take this too seriously and try to shoot me outside of my place of business, this should not be considered "sacrilegious" (or even "sacrilicious") because i happen to think Dean Martin is completely awesome. if this doesn't makes sense, picture me saying "Jesus is as cool as Dean Martin." see how that sounds complementary? maybe this isn't helping. anyway, please don't shoot me? thanks.
additional disclaimer: i was completely sober during the creation of and/or rambling about this idea; i don't know if that makes it better or worse, but whatever, i just wanted to say that upfront before we got into this. okay, here we go:
SEVERAL COMPLETELY REASONABLE REASONS TO INDICATE THAT DEAN MARTIN IS THE SECOND COMING OF JESUS CHRIST

Dean Martin: too cool to live, too rare to… wait, he DID live for a long time. anyway, he's still just ridiculously cool; just look at the man
DEAN MARTIN, LIKE JESUS CHRIST, WAS INCREDIBLY COOL
let's just start with the most obvious comparison between the two men's lives: their phenomenal coolness. both men were well-liked amongst varied strata of society and were renowned for their personal charm; hell, even religious sources tell us that even one of Jesus' largest foes, Caiaphas, declared that "one thing i'll say for him: Jesus is cool." and frankly, between the two of them, it's Jesus whose coolness is more up for debate. after all, it's not like Jesus released an album with the title of "Forever Cool."
DEAN MARTIN, LIKE JESUS CHRIST, WAS BORN TO IMMIGRANT PARENTS
in Martin's case, we have a pair of Italian immigrants (Gaetano and Angela) in Ohio; in Jesus' case, we have a pair of Middle Eastern immigrants (Joseph and Mary) who were forced to travel outside their native land, where their child was born. i know, i know: by itself, it seems a little coincidental, but slowly the true picture shall emerge!
DEAN MARTIN, LIKE JESUS CHRIST, WAS SMARTER THAN HIS TEACHERS
in his youth, Dean gradually became to realize that he was smarter than his teachers, or at least he thought he was; if there's any debate about this, how many of THEM became as wildly-successful as Dean Martin? exactly. and while he wasn't trapped in the chains of the Ohio public school system like Martin was, Jesus certainly came to realize how much better an understanding of life and/or god he had than his supposed teachers. at least i don't recall the New Testament being full of Jesus bowing to the commands of the Pharisees.

Dean Martin: putting his messiah-like powers of alcohol materialization into action to liven up a gathering… just like Jesus did. coincidence?
DEAN MARTIN, LIKE JESUS CHRIST, MADE ALCOHOL MIRACULOUSLY APPEAR AS NEEDED
okay, this one writes itself, so i won't waste your time any further.
DEAN MARTIN, LIKE JESUS CHRIST, OPERATED UNDER THE ROMAN EMPIRE, SORT OF
Jesus obviously lived and died under the watchful eye of the Roman Empire; i kind of sort of recall them having a thing or two to do with his ultimate demise, so there's probably no dispute there. but the Roman Empire was gone by 1917, you say? well, it's not like Italians have gone anywhere, and it's pretty reasonable to note that they're the successors to the Romans. and Dean Martin was born to Italians, grew up in that kind of social environment, counted them amongst his best friends, and so on. plus, we could take this to a crazier, conspiracy-style level of "AMERICA IS THE NEW ROMAN EMPIRE" or something… but that would just be ludicrous, right?
DEAN MARTIN, LIKE JESUS CHRIST, REJECTED THE MONEYCHANGERS
following up on the heels of that last one, there's one further thing to consider: Jesus is well-renowned for finding moneychangers, whipping them and kicking their tables over. and why did he do this? because they were essentially extorting money from a populace that had to change their money to go to temple. fair enough. Martin, for his part, wasn't quite the kind of guy to smash tables and whip people, but it's noted that while Martin did have some Mafia connections (there's that Roman thing again), it's also noted that Martin felt little sympathy for the Mafia and only did them small favors if it was not inconvenient for him; one source (Michael Freeland) goes so far as to claim FBI recordings "once picked up a mafioso making plans to injure or even kill Martin because of a perceived lack of gratitude." seems close enough to me!

seriously, you take in the excellent of this image and tell me that that Last Supper painting tops it. at least this one can't inspire some kind of shitty Dan Brown novel
DEAN MARTIN, LIKE JESUS CHRIST, ROLLED WITH A BAND OF APOSTLES
okay, this is an easy one: the various apostles that ran around with Jesus with their varying names and their occasional whining are well-known to us all, and Dean Martin had his Rat Pack (and also, Jerry Lewis). granted, some posit Sinatra as the leader of said pack, or at least claim Martin and Sinatra founded it… but come on, if you're Peter Lawford, whose word would you heed more, Frank's or Dean's? i don't know how directly we can make parallels here, but we can try (and it helps if we drop some of the names that aren't in every gospel, i guess):
–Jerry Lewis = Peter: after all, who profited the most from his close relationship to Jesus/Martin? the guy who became the first pope and/or parlayed their stage act into a successful film career, that's who!
–Frank Sinatra and Sammy Davis Jr. = John and James: the two were brothers of similar origin and similar employment; Sinatra and Davis were both born in the New York/New Jersey area and were employed in the same singing and acting field. there we go.
–Peter Lawford = Matthew: well, Matthew was a tax collector, and thus not as trustworthy as others in the eyes of the masses; Lawford was British, and i think the same lack of trust applies there, right?
–Norman Fell = Judas Isacariot: it's noted that Norman Fell was "briefly" considered a member of the Rat Pack during the filming of Ocean's Eleven, but who would "briefly" be a member of such an awesome group? a TRAITOR, that's who!
–Shirley MacLaine = Mary Magdalene/Thomas: originally, i was comparing her to Thomas, since he was the most feminine of all the apostles, what with all his doubting and everything, but my father claims this is the best comparison (since MacLaine was the woman most often considered a member of the Rat Pack). but if you want to be anal-retentive about this, go back to my first choice.
–Joey Bishop = the rest: meh, it's Joey Bishop. he's as nondescript as Andrew or Bartholomew/Nathanael or the other James or Thaddeus or Simon were. what exactly do you recall about any of them? now, what exactly do you recall about Joey Bishop?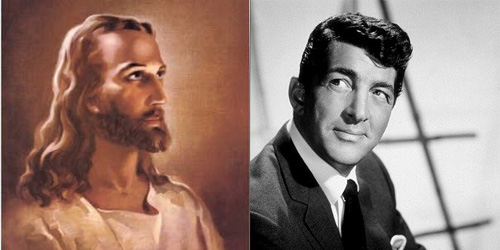 hey, they're even equally good at staring up at the heavens in a meaningful fashion
DEAN MARTIN, LIKE JESUS CHRIST, HAD A GREAT HEAD OF HAIR
this might be the most important of them all. when you look at the above picture of Jesus, what's the first thing you think? sure, the second thing you think might be "that's an image of Cesare Borgia, the second son of Pope Alexander, the sixth of Rome, and once the picture was shown, that's how the devils tricked my dome" … but come on, you Killah Priest wannabe, the FIRST thing you think is "wow, what amazing hair!" but then look at Dean Martin and tell me who's hair is REALLY the best.
honestly, the worst thing about this whole mess is knowing that while all this time when we were waiting for the messiah to return, he DID return and we totally missed it. tragic, truly tragic.