perhaps because i have spent the last couple of days crying about the Oakland Raiders continual decline into just being the worst thing ever, celebrating the future victories of local MMA fighters, running over deer with my sad little car and, well, the whole "grits" thing, i haven't really taken the time to craft a well-written piece of comedy for this week. it's a common problem here at the house of hate; i truly mean to work on this stuff a little longer in advance so i can polish and tweak and alter the writing to my heart's content… but it doesn't happen. and i feel a little ashamed about it.
so with that being said, let me just go ahead and once again try and make something up quickly at the last minute.

yes, Michael, i still consider you the stupidest man ever to be drafted in the NFL, even if now you will see a guaranteed dollar or two
Michael Crabtree ends holdout with 49ers
really? all this hilarious drama is over? that's what they tell me:
"Give the San Francisco 49ers credit: Their hard-line approach in filing tampering charges against the New York Jets may not result in a penalty against the Jets, but it did force wide receiver Michael Crabtree to finally agree on a contract with the 49ers.
Crabtree agreed to a six-year deal with San Francisco early Wednesday morning after missing all of training camp and the first four games of the season. The deal includes a sixth year that voids if Crabtree has two great seasons in his first four years. The 49ers face Atlanta on Sunday; it's unclear if Crabtree will play."
now, this has left me profoundly disappointed, because i was sincerely hoping that he'd hold out for the entire year, attempt to re-enter the draft next year, fail miserably, and then spend the rest of his life as one of those random NFL trivia footnotes. i've been spending the entire time this has been a news story declaring that Crabtree was the stupidest person to ever be drafted, and while he still might be, it hurts my case a little for him to actually sign and be able to prove me wrong on the football field.
but for those of you at home not fully aware of why Crabtree's an idiot – i think we all understand the illogic behind "i deserve more money than someone who was drafted where i was because i SHOULD have been drafted higher" or "if i hold out for one entire year, i will be drafted even higher next year AND be quickly signed to an even more lucrative contract" – i think it helps to point directly at some reasons: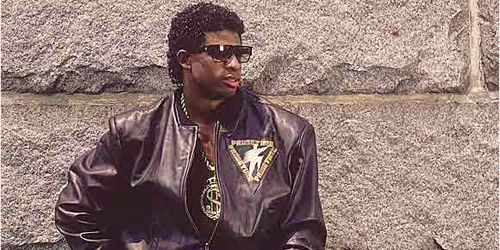 nothing says ridiculousness quite like pictures of Neon Deion in his prime
considering Deion Sanders to be your adviser
a little bit of further summary from the above-linked article:
"In the immediate, Crabtree got boxed in as a result of his adviser, NFL Network analyst Deion Sanders. When Sanders said on NFL Network that two other teams had expressed interest in Crabtree and were willing to pay him more than the slot commensurate with the No. 10 pick this year, San Francisco owner Jed York went on the warpath. Eventually, that contributed to the tampering charge against the Jets, which is still being investigated."
now that seems bad because of the tampering investigation and the general confirmation of his agent's bad advice. but really, there's a bigger issue here: what's Deion Sanders' qualifications to give people advice? i mean, while i hate him, the man had a solid, long, financially-successful career, so i can see where he might fool people. but the thing is, it's not like Crabtree's the first and only guy to turn to Sanders for advice, so you'd think he would have seen how well it's worked out for guys like Adam "Pacman" Jones and DeAngelo Hall. well, then again, Hall's managed to rob about three NFL teams of millions of unearned dollars, so that might be a bad example.
i get Sanders' interest in this: it makes him relevant and popular should such advice pan on; i can even see young players being smitten with him. i just can't see how a responsible agent or manage lets his player listen to Sanders like that. but then again, there are other things i really don't understand: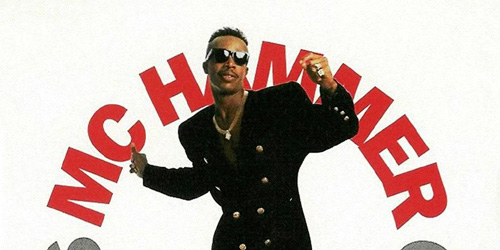 this… this is not a financial or career adviser
how MC Hammer is involved in all of this
uh, what?
"In all, Crabtree said enough to make you question the sincerity of everything he said. Speaking of questions, he left without answering the one inquiring minds really wanted to know. Hammertime? M.C. Hammer was spotted at Monday's negotiation session. He's a pal of Deion Sanders, who's one of Crabtree's mentors"
to make sense of this, you have to cling to some VERY tenuous notions, like "Sanders and Hammer are very good friends" (which i assume to be true, since through their teamwork, one of the greatest albums of all time was created and released … an album that i purchased for the whopping price of $0.75) or "well, Hammer represents the Bay Area, and that's where Crabtree will be playing." these are not very good excuses. and it's not that i hold a grudge because my sibling didn't get my Please Hammer, Don't Hurt 'Em cassette tape autographed for me, it's just that i think it's a poor business decision to get MC Hammer involved in ANYTHING you do. are we forgetting the bankruptcy? the parachute pants? that ridiculous animated show?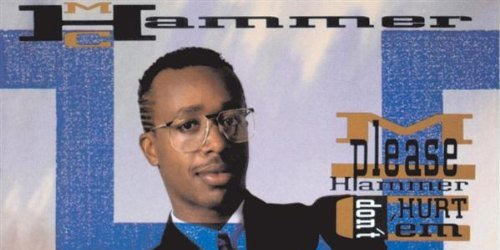 seriously, though, Please Hammer, Don't Hurt 'Em will always be a top-10 album title
it might be time to listen to "U Can't Touch This" again, though. still, i hope Crabtree fails miserably. that is all.