DISCLAIMER: today's title was, in fact, stolen from someone's Facebook update for the day, which seems lazy and ridiculous and to which i say "eh, what are you going to do about it?" ultimately, i got a chuckle out of it and it's thematically correct, since it's once again Thanksgiving and all. plus, as my Ojibwe forefathers say, "whether you're looking for casino action with the latest slot games, an exciting night out on the town – or a little bit of it all – you'll find it and more at the Black Bear." but i digress.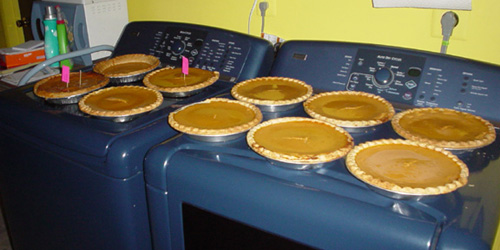 yeah, i don't know why i lined up all the pies on the washer and dryer either; sometimes things like this happen, and it's best to not ask too many questions
events of the actual Thanksgiving holiday
even though it was a holiday and all (and one on which i did not actually work for some reason), some things did actually get accomplished. a short but informative recap:
–mass quantities of pies (10+) were created, and more experimental variants once again occurred. last year, we had "Truthful Promise" (chocolate-pumpkin) and "Sharp And Smooth" (banana-pumpkin); this year saw the introduction of "Days Of Penitence" (notable increase in some spices) and "Hot Summer" (central graham-cracker layer). yes, that's correct, the spicy pie didn't get the "Hot Summer" label. these things happen.
–i should also probably do some field research on further variants we have in the hopper for next time (marshmallow-pumpkin, heavily-caffeinated pumpkin, the long-awaited "Jerusalem Way" peanut-butter-pumpkin pie)… but then again, there was some trash talk from people who brought other desserts and i MIGHT have vowed to not make pies in 2010. good thing for all of us that i'm all talk!
–there was a dog fight that resulted in a beagle getting doused with mojitos. somehow i doubt this is standard Thanksgiving fare? unrelated note: that beagle was awesome.
–i don't want to talk about the Oakland-Dallas game. fuck the fucking Cowboys. i am not going to be giving thanks for them.
–also, if you root for the Raiders, everyone in your extended family who comes over for Thanksgiving will make fun of you for it. granted, wearing a Kirk Morrison jersey MIGHT seem like provocation, but consider these facts: a) no one present was a Cowboys fan, b) it's motherfucking THANKSGIVING, and c) the fact that Kirk Morrison IS awesome should not be disputed. and then people began to text message me to mock the Raiders as well! sole exception to the rule: my grandmother, who partially defended the Raiders and/or myself. she's the best.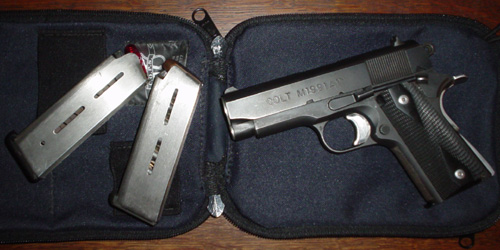 ooo, guns, guns, guns!
somewhat belated firearms stuff
recently i went out on a hunt for the newest firearm to add to the team, and while i had somewhat intended to make it a 12-gauge coach gun (which would then be used to shoot further L. Ron Hubbard books in half), it ended up being this adorable compact Colt M1991A1. now, i had vowed some time back that, if i should ever get a compact 1911-type pistol, i would then go wild with showing off press-checks "like Al Pacino in Heat." and i'm not going to let anyone call me a liar on that front!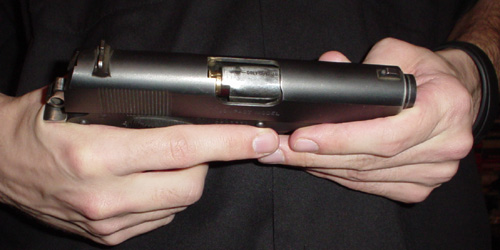 now to scream the "because she's got a GREAT ASS" line at some people
press-checks: the kind of thing gun nerds get WAY too excited about when we see them in films and television programs. we can't help it, it's genetic.
final Thanksgiving message
i don't know why i didn't post this up in previous years… but here it is for 2009. happy Thanksgiving!