it's been noted a couple of times here on this illustrious blog that i am an Oakland Raiders fan; as one can imagine (and has also been noted a couple of times here), this has led to hardships of various types. some of this has been due to people i notoriously hate (such as Bill Callahan), some to this has been due to just overall poor play… and most of this has to do with JaMarcus Russell.
and now, janklow with an open letter to JaMarcus Russell.

fuck you, man, fuck you
well, why did you do it? are you some sort of jerk or something? do you not understand what you're supposed to do as the quarterback for an NFL team? do you really not understand why you were repeatedly benched? are you that unappreciative of the vast amount of money you are guaranteed? or the opportunity that you have that many, many former college football players would love to have? mostly importantly, i guess: do you understand that now i cannot even see your fat face on the sidelines without getting ridiculously angry about it?

fuck you, man, fuck you
look, i wasn't wild about the #1 overall draft pick thing; it wasn't personal, i just think the pick itself is far too likely to produce a bust (or even a "bust," who's merely just a good player) and i didn't think the Raiders were going to do anything great with it. and there's always the questions about how well a rookie QB can adjust and adapt to the NFL when he goes to a bad team (which the Raiders were) and especially one with a questionable offensive line (which the Raiders had). so there was some sympathy there.
also, i made the tragic mistake of purchasing a Russell jersey, which, while i did because it was a phenomenal deal on an authentic jersey, is something that i consider to be bad luck. i mean, the guy hasn't even played a snap for your team, right? doesn't that scream jinx? luckily for me, then some things happened to ruin my sympathies.
–the holdout. yeah, remember this? here's the deal: extended rookie holdouts are basically never good. they make you look greedy, they make you look spoiled, and, mostly importantly, they hinder your football development. forget the knee-jerk reaction to just label guys calling you greedy "haters" and make an argument in defense of maximizing your earnings; it hinders your development, and THAT hurts your earnings as well. and by holding out weeks into his first season, this is what Russell did. notice how he still sucks? exactly.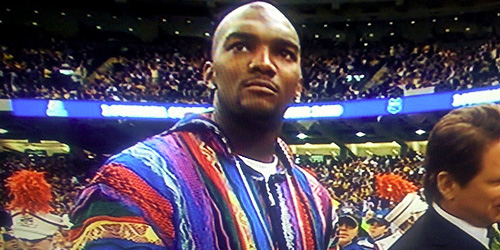 fuck you, man, fuck you
–the fatness. i don't want to seem excessively harsh here, because it's fine if people are fat. really, if that makes you happy, okay. but when you're a professional athlete who's guaranteed millions of dollars, i expect you to act like it … and one of the ways you do that is by showing up in shape to play football, especially when you're a player who people are constantly accusing of being out of shape. as a fan, when you remain a huge fatty even in the face of your money and all those trainers and all the rest, it's sort of insulting. plus, there's also a factor where you're huge – and i mean massive, not fat, because Russell is HUGE – and yet you're unable to resist being sacked CONSTANTLY.
–the inability to care. for the love of god, man, you have GOT to have a little bit of fire in you to lead an NFL team … and yet Russell can't be bothered to care. not when he's losing, not when he's getting benched, not when he's being asked about a benching. seriously, you can get benched and not know why? you can complete less than half your passes, throw no touchdowns and a pile of interceptions, get constantly sacked … and not understand why you got benched?
Russell, here's the bottom line: you honestly seem like a fairly nice kid, i've never heard of you doing anything downright BAD in either college or your NFL days, and i can't fault you for being drafted high and thus getting paid and started. but you are so worthless and terrible at football that i need you to just go away. i get immediately furious when i see you starting now. it would be best for both of us if you would just stop playing football.
also, while i don't have the material for a full-length update about this, and as i have gone on the record with rants about terrible, terrible book advertisements before, i want to punch whoever wrote the ads for this new James Patterson book (and i use that phrase loosely, since i guess it's sometimes hard to tell who wrote one of "his" books) I, Alex Cross for their use of the phrase "un-put-downable." this is not a real word or a real phrase and it makes me want to vomit.