i'm going to have to run the risk of making light of a concept that might annoy people, but this is what we've got for the week, so here goes, try not to take it personally. so the other day our hero Zippy asks me "have you heard of this Shamu?" i have no idea where this question is going; i HAVE heard of "this Shamu," but i have also heard of many other random things. is Shamu a particular famous whale that's super-old and or may have died years ago? or is it a random, rotating title like Uga? (it turns out it's the latter.) Zippy tells me "well, this Shamu killed somebody today." and i have to admit, when they told me that it was a trainer, i felt disappointed, as if this wasn't really news.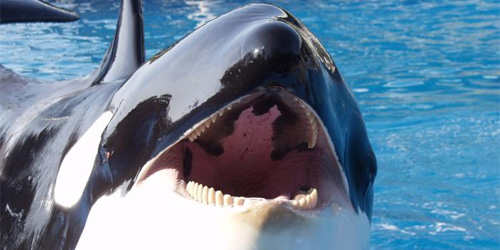 when i see this face, i want to scream "that thing is a KILLER" like the mayor in RoboCop 2
now, i admit this is a little harsh and probably somewhat unfair to the lady in question, and it really IS news, so despite the fact that i generally like to be hostile and rude and whatnot, let me be clear that i'm not making light of the fact that this whale killed her … totally. or maybe i am, because i don't know why this is breaking news when you consider the fact that giant, murderous animals are always in a position to suddenly murder you; the fact is, i assumed a whale somehow killed a customer at the park, which WOULD be crazy and shocking. but maybe i should just start mocking someone who didn't get killed in this scenario: SeaWorld President Jim Atchison.
from this article: "We will only resume in-water interactions with our killer whales after the review is complete and we have implemented any changes in procedure we feel will ensure the safety of our trainer staff," said Atchison, reading prepared remarks during a brief press conference in Orlando on Friday.
what i am saying is, doesn't it seem like the changes that would ensure the safety of your staff is to keep them the hell away from these whales? they're killer whales! look, i think elephants are awesome, but if i was riding them and shooting little cannons off them and everything else, and then an elephant had enough and crushed me, would we really be surprised that such a thing should happen? and would my ghost lobby against elephant-related shenanigans? doubtful. plus, then Atchison gets contradictory on us when asked about the whale that killed trainer Dawn Brancheau:
"Tilikum is an important part of our overall team," Atchison maintained. "Those [previous] incidents and the nature of them had nothing to do with the nature of this event. They are not relevant to this particular altercation."
okay, slow down: you JUST said you'd implemented any changes in procedure you feel will ensure the safety of your trainer staff. it seems to me that working with a killer whale who has possibly killed not one, but THREE people is not going to ensure the safety of your staff. plus, what is with this weird enabling of the whale's murder spree? everyone's saying that this whale with the weird name Tilikum killed a couple of people, and that's not relevant?

when you do this kind of thing for a living, knowing whether or not the whale in question has killed multiple people seems COMPLETELY relevant
also, it seems completely relevant because while one death was apparently that of a trespasser in 1999, the other was of a TRAINER in 1991. now, if you trespass into a killer whale enclosure, you deserve whatever happens to you. i recall a story from my youth (that i CANNOT find on the internet, so maybe it never actually happened) about a kid getting into a polar bear enclosure at a zoo around here and getting killed by the bears, and i have to tell you, that's what happens when you fuck around with bears. although all that being said, the bolded part here is just weird:
"Authorities later concluded that the man, Daniel Dukes, likely suffered hypothermia in the 55-degree water and drowned, but they said it also appeared Tilikum bit the man's body and tore off his swimming trunks after he had died."
tore off his swimming trunks? what exactly was this whale trying to do?
anyway, the part where this whale (and two other female whales, so maybe this was all about peer pressure and putting on a show for the ladies) drowned a trainer seems perfectly relevant. so yeah, i get it, this whale is worth tons of money and mostly behaves and trainers that feel confident will work with it in the future like Brancheau did, and more power to those men and women and their massive balls that i know they must need wheelbarrows to tote around. i suppose i have the same reaction to whenever animals do this kind of thing:
-bear eats a guy who's always hanging around bears? should have seen that coming, as bears are only going to take so much of your nonsense.
-bear kills guy who feeds bears as the government tells him to please stop? well… you KNOW you saw that coming.
-tiger bites the hell out of a Las Vegas magician? seriously… we were all surprised that it took that long to happen.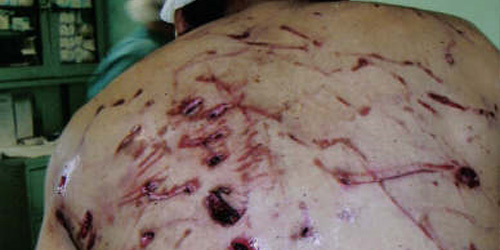 yeah, never fuck around with bears
of course, if it's true that this trainer's ponytail is the reason why this whale killed her (as has seriously been suggested), then all bets are off, because that sounds like a concept i should ABSOLUTELY be allowed to make fun of.