despite my stature as a) a tiny, tiny little man and b) America's most beloved entertainer (well, maybe i'm second to Don Rickles, but who isn't?), it cannot be said that i have completely resisted the allure of the martial arts on a personal level. granted, my willingness to shell out upwards of $45 to watch Anderson Silva style on people (4/22 ELBOW STRIKE DESTROYS TONY FRYKLUND NEVER FORGET) has never been in debate, but it must be admitted that, should you ever meet me, internet people, you would find it unlikely that i was ever even attempting to wreck dudes seriously.
this, however, is not the part of the story where i reveal some secret dude-wrecking history (even if i AM a bad enough dude to rescue the president), but simply the part where i admit i took some karate lessons as a child… LIKE EVERY OTHER RED-BLOODED AMERICAN CHILD OF MY GENERATION. now, i didn't take it very long or get very good at it (my major memory of those days is my distinct recollection of being kicked into a mirror by a much larger child), but what happened as a result is that i will always, always, have a soft spot for karate. and while this sometimes leads to awesome moments of uncalled-for glee (such as when Lyoto Machida defeated Rashad Evans and declared that "karate is back"), it mostly leads to me being disappointed. this is the theme for today's listicle.
some ways (less than 13 of them, anyway) in which karate has disappointed me

but it could have been worse: i could have taken martial arts from someone like THIS
McDojos as a general concept
there's basically no way to approach this concept (the mass-marketing of karate in the most capitalist way possible) without being disappointed by it, whether it's because you think it's cheap and soulless and doesn't really train real practitioners of karate or because you have some weird "karate is sacred and important and should not be cheapened" thing going on, the reasons don't matter as long as we agree that "McDojos" just aren't quite right; the fact that the term "McDojo" can be fairly used should give that away. given the popularity of karate for a time, it means that these schools are basically what one thinks of when they think of "taking karate lessons in the 1980s." now, ultimately, this isn't karate's fault and i shouldn't be disappointed in karate for it… but at the same time, if you took karate anywhere in the US, you have to accept a nagging sensation that maybe you're just some McDojo product who sucks at life.
this crazy old karate book i have
okay, i can't find this book and i don't remember the title; all i can tell you is that it's yellow and talks a lot about karate. i'm sure you're thinking, "what a fascinating description," so let me tell you that there's a part of this book that's about using karate to defending yourself against street weapons like knives and … motorcycle chains. this book has to have been written in the 1950s or something, because the only place i remember seeing "motorcycle chains" as a weapon were Streets Of Rage video games and movies about what a wild time the greasers had in the 1950s (such as the Outsiders, although i do not recall if there were any motorcycle chains in that movie).
so where am i going with this? a book about karate led me to wildly misunderstand the prevalence of motorcycle chains in American society. and i think karate let me down on that score.

still really not understanding why anyone thinks this series was any good
the ending of the Karate Kid, Part II
i really don't want to make this list entirely about the Karate Kid movies, although i most assuredly could; if i happen to catch of those films on televisions today, i am stunned to think that anyone ever took them seriously as films, let alone anything to do with any martial arts. Ralph Macchio as a leading man (of sorts) AND as a bad-ass karate dude? ridiculous! the continual way Ralph Macchio always progresses from "terrible at karate" to "awesome at karate" in every film? ridiculous! the crane kick? "sweep the leg?" that goddamn "You're The Best" song? this list goes on and on.
but since this list is about karate, not the Karate Kid movies, allow me to cut the Karate Kid some slack (eh, it's an underdog story and i can allow that his ability to make karate happen was inspired by his childish hopes of feeling up Elisabeth Shue) and completely write off the third and fourth entries and just insult the Karate Kid, Part II. see, deep down i can always forgive the "competition" inherent in the Karate Kid/the Karate Kid, Part III as the shenanigans of stupid white kids. basically anything terrible can be explained away in this fashion … well, in films, anyway. i SHOULDN'T take them seriously, so how mad can i really get about them?
the Karate Kid, Part II, however, is way too Asian in character for me to forgive it, and the ending is atrocious; we have the same "terrible to awesome" shit… but it results in a tournament to the death somehow (Karate Kid movies are all about improbability)… that is resolved with some fucking "drum technique" nonsense and nose-honking. which would be acceptable from white kids in southern California, but not from honest-to-god Japanese people in Okinawa. karate, you fail me again.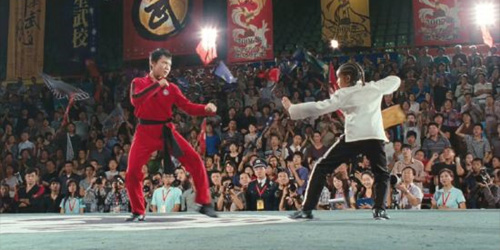 and here my concern was that there was no way they could make the karate kid any worse…
creation of this whole new Karate Kid nonsense
okay, i lied, i'm not over this. they're remaking one of these movies? and in doing so, probably secretly hoping to relaunch a SERIES of these movies? there are, however, two major reasons why this is even more objectionable than Ralph Macchio winning a nation's love through karate:
–this "remake" (it's so not a real remake) is structured around the concept of "Will Smith's son likes martial arts, so let's make him a movie where he's a karate hero." this is such an illegitimate concept. Macchio could at least claim to have had a mild acting career and then simply took this crazy karate role; Jaden Smith's entire acting career is basically "well, my father's famous and people want him to like them, so now i am in some movies."
–there's no karate in this movie. what's that, you say? Jaden Smith travels from Detroit to… China. and learns kung-fu. no one seems to know anything about karate, or practices any karate. it's just a word on the movie's poster.
now, since there's basically no karate in the film, you'd think i could avoid blaming karate for this… but there's no way that's going to happen. karate, you fail me again.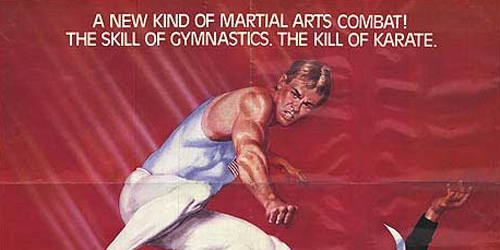 surely there's no way this exciting poster can be wrong!
Gymkata
perhaps this film can be summed up with only its tagline: "the skill of gymnastics, the kill of karate." well, that doesn't explain anything about it, but it should give you the idea of what went wrong here: the plot features an Olympic gymnast somehow combining gymnastics and karate in around to create a new (and utterly terrible martial art) and then get involved in a complicated 1980s-era game of diplomacy and spy stuff and there's maybe "a deadly competition in a fictional country, Parmistan." i really recommend you read the plot in full over at America's most trusted source of information if you want your mind to be blown by sheer nonsense.
karate is at fault for all… that somehow.

at this point in the fight, you could actually hear my heart breaking at the sight of karate failing me in such a spectacular fashion
Machida's defeat at the hands of Shogun
you see, when Lyoto Machida defeated Rashad Evans and declared that "karate is back," it was a bright moment for those who have a soft spot for karate; sure, many successful fighters and/or movie stars have incorporated karate into what they do, but no one has really been a "karate guy." Georges St-Pierre may love Kyokushin karate, but he's not a "karate guy." but Lyoto Machida was (and is, i mean, he didn't die or anything) and so when he became the UFC's light heavyweight champion, it was great victory for karate.
then he barely defends his title against Shogun before promptly losing to him in a rematch. is Shogun a good fighter who fought a good fight? yes. did Lyoto actually defend his title, something most previous light heavyweight champions have been unable to do in recent times? yes. still, when Shogun quickly knocked him out, karate failed me.
but having written and read all this, i realize there's a slight chance it's not so much that i'm disappointed by karate as i am disappointed by the 1980s. and there's a really solid chance that that's more accurate. or maybe i'm disappointed in both karate AND the 1980s? i don't even know anymore.