in light of the fact that i am, to say the least, fairly disgusted with all this debt ceiling nonsense, i figured it would be perfectly acceptable to spend this week's (belated) update mocking and/or complaining about some of our nation's fine legislators and/or wannabe legislators. it's not that this is going to accomplish much… but maybe i'll feel better? probably not.
still, hey, it's got to meet our minimum standard of "something around which to base an update for the week of 07.29.2011," and that's got to count for SOMETHING.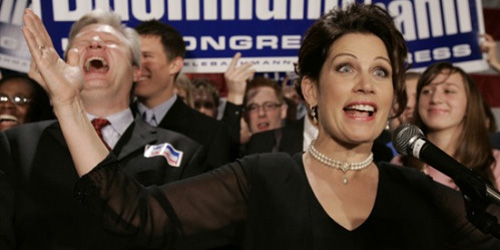 on the plus side, at least she looks entertainingly crazy
Michele Bachmann touts business experience, refuses questions about business
now, let me be clear about this dilemma: part of me hates to bash conservative politicians, as they're often the most reliable source of pro-gun votes, but another part of me hates when politicians are unabashedly hypocritical and/or idiotic. this dilemma, as you can imagine, forms a major part of my feelings regarding Sarah Palin. and now we can apply it to the ever-classy Michele Bachmann.
"Rep. Michele Bachmann (R-Minn.) declared her husband's work as a counselor for gay youth off-limits during her pursuit of the Republican presidential nomination. Amid reports that the Tea Party congresswoman's husband, Marcus Bachmann, had run a clinic that administered so-called "reparative therapy," seeking to encourage LGBT individuals into a straight lifestyle, Rep. Bachmann said those reports weren't an issue.
"I am running for the presidency of the United States. My husband is not running for the presidency," Bachmann said during a speech at the National Press Club. "Neither is my business.""
now, okay, i don't really want to get into a debate about the merits of/problems with Bachmann's husband's business. i don't really think "reparative therapy" for homosexuals works, but whatever, if people want it, fine. however, what i CANNOT fathom is how someone who is running for the presidency of the United States can say with a straight face that what their husband does not matter, and, even if you were to accept that, THEIR BUSINESS is not relevant. the latter, at the very least, is something you're ADMITTING to being involved in.
"Marcus Bachmann has come under scrutiny since an initial report in The Nation, suggesting that he had run a religious-based clinic that received state and federal funding that included faith-based efforts to change individuals' sexual orientation. Rep. Bachmann declined to address a question about whether she believes in the effectiveness of reparative therapy, and wouldn't say whether the clinic has received any taxpayer funding."
see, again, i understand that you might not want to comment on a business that your husband runs when the answer is sort of a political hot button (although i cannot imagine why Bachmann of all candidates would resist that) … but Bachmann, she of complaining about the use of federal funding, won't say whether or not the clinic has received any taxpayer funding? this tells me two things:
01. that the clinic HAS received such funds, as there would be no reason not to say it hadn't if that was true;
02. Bachmann is a fucking moron
"Marcus Bachmann has been a presence in the campaign — he was at the Thursday speech, as were two of their biological children. He introduced his wife during her formal campaign launch in Waterloo, Iowa, last month. Rep. Bachmann has spoken of their strong union; they're close to having been married for 30 years. She told the audience of press club members that she and her husband "made the decision" to run for president together."
i note the "she and her husband "made the decision" to run for president together" part mainly because this is a woman who is also saying "my husband is not running for the presidency." so he's irrelevant to the discussion of what type of candidate you are… except when you yourself are mentioning him. got it. you'd think someone could ask her about a topic SHE brings up, but apparently you'd be wrong.
"The question about her husband's work wasn't the only one for which Bachmann wouldn't provide a direct answer. She didn't say whether she would necessarily support House Speaker John Boehner's (R-Ohio) continuing on in that role if his plan to raise the nation's debt limit makes its way through Congress. (Bachmann will vote against it.) "I am running for president of the United States," she said. "I am not running for Speaker of the House.""
because, you see, somehow her vote on this massively important issue is irrelevant to… uh… well, actually, as far as i can tell, it directly relates to her political positions, her current job as a U.S. representative, and the kind of policy she would pursue if elected president. in fact, the ONLY reason i can see not to answer this is if you were privy to/involved in behind-the-scenes negotiations regarding the debt ceiling, and even then, you'd still give some vague answer to side-step it, not claim it didn't matter because you're not running for Speaker of the House.
but honestly, she's very conservative, i'm a RINO, whatever, so we're never going to agree on the issues. but what i wish we COULD agree on is her being intellectually competent enough to be president. because that's my real concern, sadly: not her politics, but her goddamn lack of intelligence.
and speaking of things i hate in my politicians…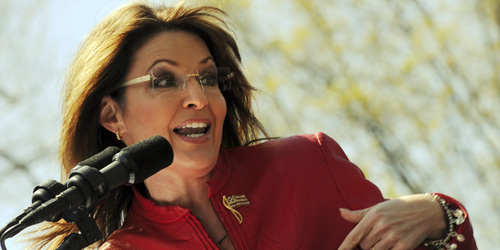 so very tired of this "wear a red jacket and annoy janklow" look
Palin: Obama's 'fear mongering' and Palin to Congress: Remember your values
actually, i feel bad about ripping on these remarks: not because of the dilemma i mentioned above, but because i hate encouraging people to treat Palin as a serious person and/or political figure. this is someone who quit her job to be a millionaire talking head. we'll come back to that in a moment.
"Sarah Palin accused President Obama of "scaring" the American people over the importance of raising the debt ceiling before the August 2 deadline. "Scaring the American people is exactly what President Obama is doing," Palin said Tuesday night on Fox News. "The president's getting pretty good at this fear mongering and trying to cram down the public's throat this idea of bigger government, more spending.""
now, i don't want to be overly critical here, but "scaring the American people" is the M.O. of EVERY POLITICIAN. this is why we're so polarized; this is how people get into office. Republicans scare people with Obama's evils like Democrats used to scare people with Bush's evils. i'm not saying neither man can be legitimately criticized… but i AM saying that if you bitch about Obama "scaring" people, you ought to have to decency not to act the same way yourself.
"Although the former Alaska governor and 2008 Republican vice presidential nominee said she respects House Speak John Boehner's efforts to negotiate with the president, she said there is a larger problem with his strategy. "The internal problem that he has is reinventing the wheel here in the 11th hour, when we already have Cut, Cap and Balance that passed the House, and we don't need to retreat now and wave a white flag," Palin said."
and now we come to another key point of contention i have. see, Palin references something that passed the House (which Republicans control) and failed in the Senate (which Democrats control). now i understand the concept of standing on principle, believe me, but if you're saying you respect efforts to negotiate, then doesn't that mean you favor "negotiation," where compromise occasionally happens, as opposed to "refusing to negotiate because you already have something you like that cannot be passed?"
there's also the point that people like Palin seem to have confused "Republicans control the House" with "Republicans control Congress." note: these are not the same thing.
"This August 2 deadline is looming, but it's not Armageddon, it's not life-or-death, so Boehner and the Republicans have got to make sure that they've got a good plan in front of those who will be voting on this plan," Palin said."
additional note: "those who will be voting on this plan" does not include Palin. she is also not running for any office that COULD vote on this plan, nor will she admit to running for president. so why the fuck am i listening to her talk?
"On her Facebook page, the former Alaska governor reprinted a letter she sent the then-newly elected members in November 2010 that called on them to tackle the deficit and entitlement programs to "avert a fiscal disaster.""
actually, i don't know which of these things i am more annoyed with: that some fucking letter Palin sent newly-elected members of Congress is supposed to be taken seriously, or that political statements are now supposedly being posted on people's Facebook page.
""I respectfully ask these GOP Freshman to re-read this letter and remember us 'little people' who believed in them, donated to their campaigns, spent hours tirelessly volunteering for them, and trusted them with our votes," Palin wrote. "This new wave of public servants may recall that they were sent to D.C. for such a time as this.""
this new wave of public servant would also do well to recall that they DO NOT CONTROL THE SENATE. i don't know if we're all up on how legislation becomes law, but the Senate is an important part of this process.
also, and this is my real reason for being so annoyed: Sarah Palin includes herself in the phrase "us 'little people?'" really, Palin? you're a multi-millionaire celebrity. you're not one of the "little people." in fact, you expect the "little people" to send you donations so that you can take a fake political vacation … that you had to stop to go on vacation back in Alaska. this is not the kind of thing "little people" do.
honestly, the really sad part is that i am just disgusted with ALL the politicians out there, but Bachmann and Palin are hogging all my rage because they're such ridiculous figures. but i promise to spread the rage around a little more next time.