I. IN WHICH WE AGAIN EXPLAIN AWAY OUR DELAYS AND POOR WORK
so some of you may remember that, last week –or whenever it was that the update dropped, because these delays seem to stack exponentially– i mentioned something about doing a Road Warrior-related update. now, this was a sincere plan; i could probably even produce a witness in REAL LIFE who could confirm this, as i mentioned the concept and kicked around an idea or two for it. i know some people out there are thinking there's about 13 minutes of thought going into these updates, and while sometimes that might be correct (or even generous), other times i plan these things out. i come up with some ideas on the drive to work, i make little notes for myself throughout the day; it's like SERIOUS EFFORT is going on. and actually, one good update might be "discuss update ideas that never materialized for whatever reason" … and by "good update," i mostly just mean "an update that might happen." literally no one will care or enjoy it.
but i digress! what basically happened is that our hero (that would be me) spent his key "committing to getting this update down on paper" time visiting with some medical health professionals, an adventure that involved some mild suffering, some mild fluid investigations and a semi-awkward rub-down from a doctor. maybe this will be the update topic for the week? doubtful, as i a) hate going to the doctor, b) HATE GOING TO THE DOCTOR and c) don't much want to discuss it beyond trying for some sympathy here. there was SUFFERING. it excuses my LAZINESS. but… an update still needs to be produced…
II. IN WHICH THE GERM OF AN IDEA IS PLANTED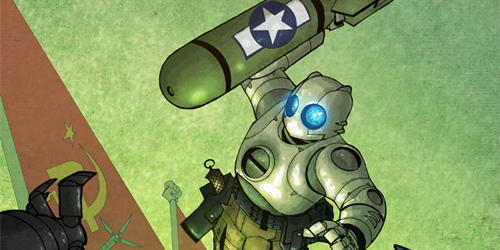 still not sure what the hell this is, but it's clearly relevant to the discussion
so i've essentially decided to devote this week's update (or "update," even, which is probably appropriate at this point) to sort of a rambling discussion of a half-conversation i had (and the above trolling for sympathy). it basically goes like this: the Irishman and i are hanging out, being incredible nerds (this usually involves some time with a PS3 and maybe some beers), and he mentions this "Atomic Robo" comic series he's picked up on his phone (ridiculous, but fucking 2011 is a ridiculous year) for his current reading. i am not familiar with it, and can add nothing to this discussion. robots are cool? yeah, robots are cool. i can add that.
so later, he hits me with the following text message: "so the first volume of the Atomic Robo series is called 'Atomic Robo and the Fightin' Scientist of Tesladyne' … this sounds like something YOU made up." to which i respond "i guess i really missed my calling," because, let's be honest, there's only so many times that you can point out that companies like Dunkin' Donuts have been stealing your ideas before people just stop caring. even if it's true! (and yes, the actual title has "Scientists," plural, but that's just me striving for journalistic accuracy there.)
but the thing is, i am sure what i would make up based on that title isn't really what's going on in the comic. and i don't want to read it, because what i really want to do is come up with some concept art for what MY version of a robot that's apparently atomic and interacting with aggressive scientists would be like.
III. IN WHICH … HONESTLY, I HAVE NO IDEA WHERE THIS IS GOING AT THIS POINT
the catch is, i am not sure if this atomic robot is allied with or opposed to the fighting scientists. so i have envisioned this in two ways:
assuming that our atomic robot is allied with or possibly a sidekick to one of these fighting scientists, i would probably pattern them much like myself and my Irish sidekick: i am tiny, clad in a somewhat awkward-looking lab coat (which proves that i am a scientist, and unfortunately cannot be black for that reason) and sensible pants and shoes. hey, bear in mind that i have to be fighting at any given moment; it's hard to unleash a barrage of devastating kicks when you dress for fashion. oh, and i have my goggles for doing science.
my Atomic Irish Robot is, much like the Irishman is: quite a bit taller than me and powered by atoms of some sort. yes, he looks very similar to all my other robots, but i figure, hey, why knock a good thing? plus, he DOES get an atomic cannon, i guess. i like my Atomic Shamrock logo, but the coloring gives it a weird heart-like shape. not pleased with that.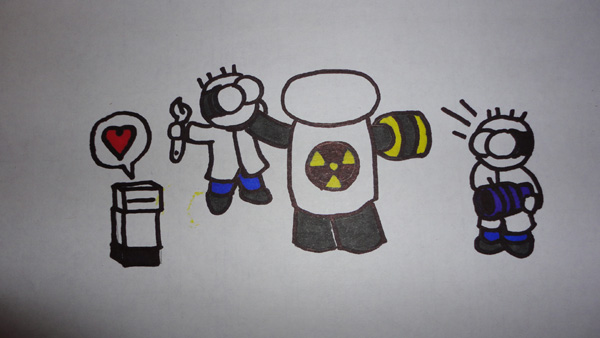 on the other hand, maybe the atomic robot is our hero? and he's fighting all these scientists? that's also possible. so here we have a less-Irish atomic robot, clearly rocking a more traditional atomic logo and choking the life out of this ill-equipped fighting scientist (who brought a wrench to an atomic robot fight for whatever reason) with the power of his mighty claw. the other scientist and his cooler purple-for-some-reason ray-gun are about the meet the business end of that atomic cannon, i guess. and TTR is here enjoying himself because, hey, i love that vulgar little robot. the random yellow coloration is just me being a shitty artist.
it's also important, i will note, to have these scientists clad in different clothes (slightly, anyway) and rocking different hairstyles, as they're no longer based on me so directly. i don't really need the hit to my self-esteem that comes with drawing cartoons of atomic robots beating up thinly-veiled versions of oneself.
IV. IN WHICH WE WRAP THIS UPDATE UP. HUH. THAT'S SORT OF REDUNDANT
so i'm not really sure what we learned here today. it's clearly not good when i don't have an update to go with… and it's probably not good to tell me about atomic robot comics… no, no, let's say that the lesson for the week is "janklow is going to get weird as hell if he's sick." yes, THAT is the appropriate lesson.