so somewhat recently (pretend we're not WAY behind the curve on this one, okay) the world lost one of its most hilarious gentlemen ever: North Korea's one and only Kim Jong-Il. you may remember him from such updates as that one where i discussed my heroes and how Kim Jong-Il made the cut because, aside from the fact that the rest of my heroes were deemed "laughable at best" by the Irishman, he did not urinate or defecate like mortal humans do. and please note that when i say "most hilarious gentlemen ever," it's implied that i mean "unless you're a resident of North Korea, in which case he wasn't hilarious at all because he was too busy murdering your entire family for not clapping furiously enough after his latest three or four holes-in-one round of golf."
alas, he's now dead and thus all that comedy must come to a stop. so before we forget all about him, let's remember the ridiculous things he said or did that we didn't cover last time, done in the same style, possibly relying on the internet once again.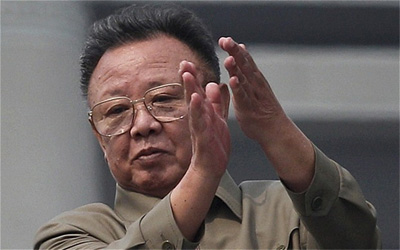 again, i must demand that you CLAP YOUR HANDS FOR KIM JONG-IL!
SOME REASONS WHY KIM JONG-IL WAS ONCE THE BEST PERSON EVER
and we have many additional ones!
KIM JONG-IL PATTERNED HIS LOOK AFTER THE KING OF ROCK 'N' ROLL
while it certainly seems like his look would be best called "original," he may have stolen it from the greatest to ever do it: Elvis Presley! sure, Elvis was a massive sex symbol and ladies everywhere got as wet as October when confronted with his look of giant shades, jumpsuits and a bouffant hairstyle … but actually, isn't that sex symbol you're thinking of Kim Jong-Il? you would not be forgiven for mistaking his beauty for the wretched inferior look of Presley!
KIM JONG-IL SHARES ASTROLOGICAL BIRTH PHENOMENON WITH JESUS HIMSELF
don't think for a moment that it's contradictory to have a "a humble log cabin in a secret camp on Mount Paekdu, a sacred site for Koreans" because you're just being fooled by the fact that your worthless country doesn't have log cabins and secret camps everywhere they should! the fact that at the moment of his birth "a star is said to have risen above the mountain and shone brightly" in addition to the fact that "a double rainbow appeared and spring broke out spontaneously" should make it clear to you how superior to Jesus he was, especially considering Jesus had only a star and some rag-tag shepherds! never mind that he was born in early July!
KIM JONG-IL HAS SUPERIOR COMPULSIONS
sometimes people make fun of me for my weird OCD moments, such as when i painstaking arrange stacks of paperwork so that binder clips fall into a neatly-stacked 'staircase' or when i refuse to use the telephone, but this is only because i lack the secret police necessary to kill everyone who dares to make fun of me! on the other hand, Kim Jong-Il is fussy to the point of having "female workers inspect each grain of rice to ensure that they meet the leader's standards," which is just AWESOME, since like epilepsy, which Kim Jong-Il might also have, OCD is a sign that the gods have touched you! or, in the case of Kim Jong-Il, touched themselves!
KIM JONG-IL HAS SUPERIOR LIQUORS
and also from the previous link: "South Korean actress Choi Eun Hee, who was abducted to North Korea and spent eight years there before escaping, was shocked when Kim served her a bottle of liquor that contained a snake "moving about and looking like it was belching," Choi wrote in a memoir." there is no joke here. i would seriously drink liquor that contained a live (and presumably aggressive) snake. back to the regular concept!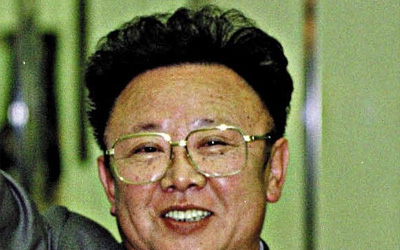 KIM JONG-IL HAS GREAT HAIR! wait, didn't we do this last time?

like i said, KIM JONG-IL HAS GREAT HAIR! still have doubts?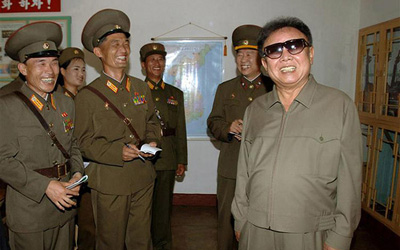 to reiterate, KIM JONG-IL HAS GREAT HAIR! yeah!
KIM JONG-IL SOLVES ALL YOUR PROBLEMS USING ONLY RABBITS
presuming all your problems consist of "lack of food," "needing more food" and "currently dying from the incredible lack of food," like the problems of everyone else in the world's greatest country! in any event, Kim Jong-Il learned of this German man, Karl Szmolinsky, who some might call the world's foremost breeder of giant rabbits and who i call "this guy Spiegel used to CONSTANTLY write about," and wanted him to come to North Korea, start a rabbit farm and thus solve all of said nation's hunger problems. so what if Szmolinsky was never to go to North Korea and would end up suspecting that his famous rabbits "had been eaten by top officials and that that was the real reason why he wasn't getting a visa?" only a man as great as Kim Jong-Il deserves such delicious rabbits!
KIM JONG-IL INADVERTENTLY CREATES A SHORT PERSON'S WONDERLAND
i don't think Kim Jong-Il meant anything by it when he "purified" Pyongyang of all disabled residents and/or short people prior to North Korea's 1989 World Festival of Youth and Students; obviously a short man like himself understands the superiority of short people (as i argued last time). some have claimed he fooled the short with pamphlets "describing a wonder drug that would raise their height" in order to ship them away to uninhabited islands, but the truth is surely this: Kim Jong-Il fought to create glorious short people societies where the short could live free of tall people interference! and not that he left them to starve to death on cold rocks that offered no food or shelter!
KIM JONG-IL IS WILLING TO REVEAL THE ANSWERS TO LIFE'S GREATEST MYSTERIES
and not in a joking, Paul Mooney-style way! whereas most of your world governments keep all kinds of information secret from the unwashed masses, Kim Jong-Il tells his unfed masses the way things really are, releasing "scores of books telling "all the truths of the world"." personally, i would like to know things like "who REALLY shot JFK" and "where did AIDS REALLY come from," not to mention "yo RZA, how many bites did it take you to chew your fucking arm off?" but will my government tell me? probably not, but Kim Jong-Il will!
KIM JONG-IL INJECTS HIMSELF WITH THE BLOOD OF VIRGINS TO STAY YOUNG
because the blood of virgins is– you know, i think that'll do it. i'm over Kim Jong-Il being my hero. jamming yourself full of virgin blood is a bit of a creepy deal-breaker, you know?
anyway, the man's been dead for like two months or so, and while at one point i thought he might rise from the grave like the phoenix before him and spray down South Korea's sinful population with a jet of atomic fire, much like HIS hero Godzilla, it actually seems like he's really dead, and we'll never have to suffer through another awkward and INCREDIBLY late listicle like this one. now THAT is a reason to celebrate!