so some time back i had vowed to replicate a RIDICULOUS post i made YEARS ago involving some He-Man figures; it's one of those "look back and witness how half-assed this house of hate thing used to be" moments of time that i figured would take up some space, what the hell… i mean, be a comedic and meaningful look at our distant past. on the thing is, i seemed to have lost track of two things:
01. the photos i used to make this ridiculous mess;
02. the actual text, which i believed to have been saved as an HTML file somewhere.
HOWEVER… it turns out that i was overlooking the folder storing #01 this entire time, and even more pathetic, #02 was discovered to have been saved as some INCREDIBLY half-assed text file with a name that had nothing to do with the content. i can actually thank the Windows 7 search for this, because it repeatedly hinted to me that said text file contained the content i wanted while simultaneously showing me NOTHING of the sort during the search process. so, without further build-up, because it's not like this is going to prove to be funny years later, here we go! actually, though, i should explain some things to make sense out of this all:
01. there might be some characters appearing in this (dabassi, fistofury) that won't make sense without some mild understanding of why exactly this site is named "house of hate"; the reason is NOT actually my unending hate for everything. i don't really think this is necessary for the lame jokes to function, so i won't go into some massively boring explanation here. suffice to say that's what all that's about;
02. i legitimately cannot recall why this is a retelling of myself and dabassi smashing up a modem. i mean, okay, i can figure out VAGUELY what's going on, but i don't remember the specific events that led to this ridiculous post;
03. i gussied up some of the language here, but this MAY mean that some bits seem very dated and some bits seem oddly current. DEAL WITH IT. also, there may be a commentary track of italicized observations? who knows!
JANKLOW'S RE-POSTING OF AN ANCIENT ARTICLE INVOLVING ANCIENT PICTURES JANKLOW TOOK AT SOME POINT IN THE DISTANT PAST
okay, here's the thing: i have a large amount of toys from the 1980s because i don't throw anything out, ever, a hoarding trait i learned from my father. however, i can't FIND any of these toys on command because they were just thrown into random boxes when i packed them away over time. or, in other words, as i found them randomly wedged in places and then jammed them into "temporary" boxes. here's an example of what i mean: somewhere in space and time, probably in my parents house, i have that original Megatron toy that's like a P-38 that turns into a sniper rifle. but i could NEVER find it in a pinch because, well, see the preceding part of this paragraph.
…with one major exception: my ridiculous collection of He-Man figures, including two copies of that most awesome of He-Man toys, Stinkor. they're all in one central location, where they have been kept for years, with the exception of He-Man himself: i once had (and maybe still have) a Battle Damage He-Man, and yet, he is nowhere to be found. this is no great loss if you consider the fact that He-Man fucking sucks.
so, without further ado… the He-Man Re-Creation of Janklow and Dabassi Smashin' Up a Modem.
DRAMATIS PERSONAE

in the role of "janklow" … Skeletor
(because janklow is a horrible monster and all)

in the role of "dabassi" … Hordak
(because dabassi is also a horrible monster, etc, etc)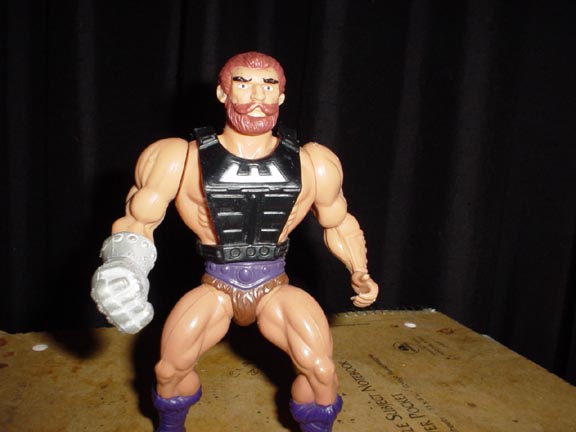 in the role of "fistofury" … Fisto
(see, that's a joke based on Fisto's name. yes, i know, puns are INCREDIBLY beneath me and the average reader, but come on, when else am i going to reference this action figure?)
(also, i will admit that the original version of this SORT OF defended the use of puns, which is mainly weird because i sincerely despise the use of puns. perhaps there was a weird "narrator persona" at work back in the day?)
and now, on with the show.
dabassi: hey, janklow, what's going down?
janklow: same old, same old. my rock monsters suck total ass and it's one thing after another until i just wish He-Man was dead. what's up with you?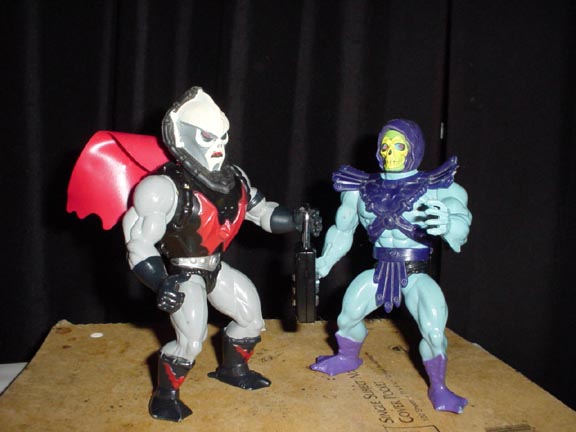 dabassi: well, i got this new cable modem that looks a hell of a lot like a big-ass combination lock. but really, it's a cable modem.
janklow: cool, high-speed internet access!
(i'll be honest: even to this day, 2012, i STILL couldn't get cable internet at my home if i wanted to, so i still kind of have the "cool, high-speed internet access" reaction to them. that said, it's not like i wrote this piece PRIOR to the introduction of such things. however, i was (and still sort of am) known for my half-assed internet connection at the time)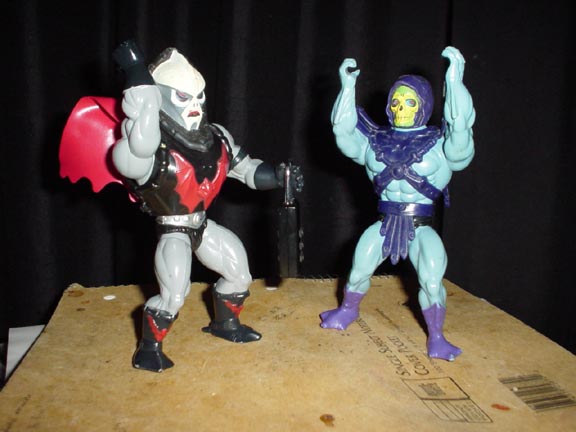 dabassi: well, except this damn thing doesn't even work at all and it even went into my PC and wrecked all those photos of She-Ra i drew mustaches on! i hate it!
janklow: that fucking sucks! doesn't anyone believe in quality control anymore? let's smash it!
(did i remove a reference to TPS reports from this part? i think i did)
dabassi: take that, you modem bastard!
janklow: i'm gonna smash it with this glow-in-the-dark hammer i have for some reason!
(that glow-in-the-dark hammer comes from some INCREDIBLY lame third-rate knock-off of He-Man, or at least just a lame third-rate action figure. but as a child, i would save the weapons for He-Man and dispense with the garbage figures)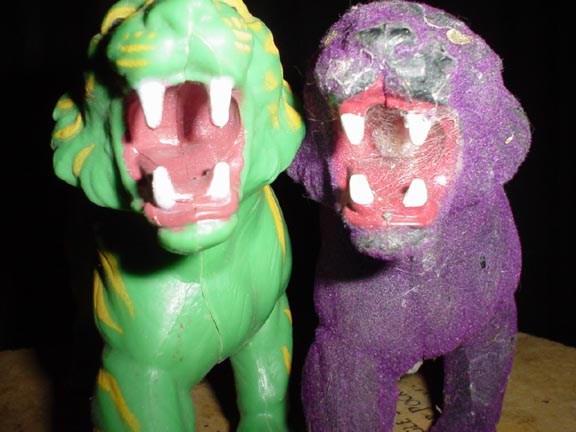 BATTLE CAT (and battle cat's purple velour friend) COME OUT OF FUCKING NOWHERE
(Battle Cat's purple friend being, of course, Panthor, an answer i confirmed with a heated Google search for "skeletor panther"; this methodology seemed about right AND revealed the following Yahoo! Answers exchange, which sincerely cracked me up, which sincerely may indicate that i have some problems:
-What was Skeletor's panther name ??
-Top answer: panthor was its name
why was the guy asking the question so excited about this? also, i don't know why Battle Cat looks clean and Panthor filthy, beyond to say, "eh, it's the velour")
dabassi: oh, shit, Battle Cat! and friend!
janklow: they say these hills are filled with ghost cars. oh, and Battle Cats. oh, and the friends of Battle Cat who are not so much green and striped as purple and velour-covered and not striped at all.
dabassi: i'm scared, hold me!
janklow: only if you hold me!
(do we all get the Simpsons reference there? because sneaking that kind of thing in makes the comedy seem like something the common man can relate to. WE'RE ALL IN ON THIS TOGETHER)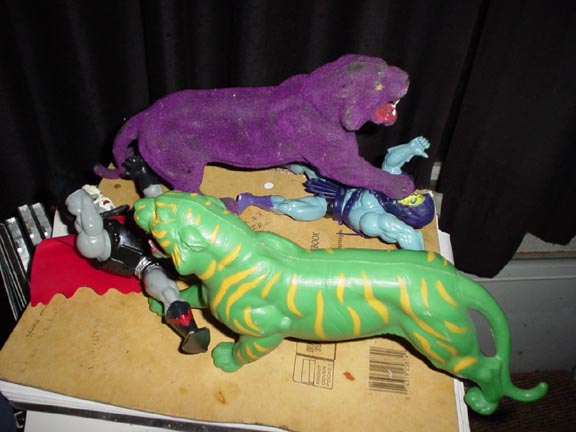 dabassi: ah! we're done for!
janklow: i never thought i'd be killed by a large purple cat. in a car accident? yes. by a bear? god willing. but by a large purple cat? NO!
(as you can see, i've been shouting out the awesomeness of bears and their attacks for YEARS now)
dabassi: hey… the cats are gone… we're saved!
janklow: but… how?
(yes, this is all taking place on top of an ancient, soiled notebook on top of what appears to be a CD rack. i… i have no explanation for any of this. also, what the fuck is WRITTEN on that soiled notebook?)
Boba Fett: hey, guys, i saw those cats trying to maul you or take your wallets and candy or something else not good, and i thought i better chase them off using my bounty hunting skills.
dabassi: wow, thanks.
janklow: didn't i tell you that the Fett Man doesn't even remotely suck?
dabassi: yeah, i think i heard that someplace hilarious.
(so there's two dated things going on here. for one, i know nerds have ruined the whole Boba Fett thing, but fuck it, i was four when Return Of The Jedi came out, and i have ALWAYS thought Boba Fett was cool. he's one of my long-owned and much-treasured action figures, and he was purchased because i was little, not for nerd cred. also, yes, we're making a Family Guy reference there, but note: a) this was before cancellation/return/slow descent into repetitive tedium and b) fuck it, that shit about "no matter how sure i am, i never risk the Fett Man" remains funny to this day)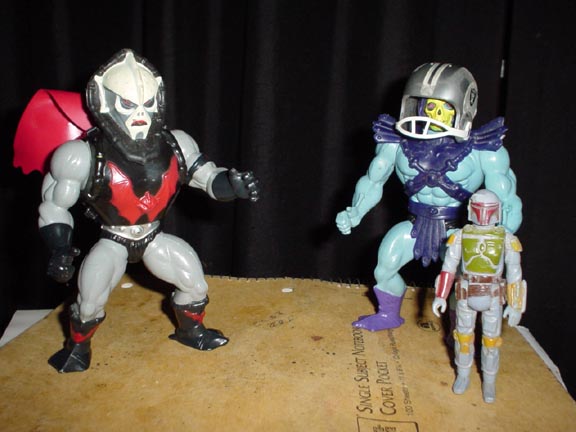 Boba Fett: so, now that they're gone, what do you guys wanna do?
dabassi: well, we could catch the Oakland-Baltimore game. Ray Lewis is like defensive poetry in motion on the field.
janklow: good plan. LET'S GO OAKLAND!
dabassi: man, they SUCK this year.
Boba Fett: yeah, i mean, they're BAD.
janklow: man, fuck you guys. your favorite teams all suck too.
(yeah, this was right after the Oakland Raiders took that SEVERE post-Super Bowl tumble into a world of crushing all my dreams. let's move on)
FIN
so was that ridiculous enough for you? ARE YOU NOT ENTERTAINED? probably not. maybe next time you will be!