for 2013, i eschewed my usual policy of making a resolution to do something like "bake all the pies" or "lose all the weight" in order to make some negative resolutions, one of which might actually apply to this website. but recent conversation makes me feel a LITTLE bad about such negativity, so what i have decided to do is be a little positive for a change, and a recent video viewing has given me something to be vaguely positive about: that giant sack of crab meats known professional as "Rick Ross."
now, i have ripped on Ross many times on this site, despite the fact that i know people that i respect who love him to death and, you know, if i go digging in my milk crates of CDs, i bet i can sadly find a Rick Ross album in there. these things happen! but i am man enough to admit that he's more infuriating on a personal level rather than a professional level, since, let's be honest, there is a lot more dishonesty to sell records in the hip-hop industry than just the stuff coming out of Ross, and it's that dishonesty that makes me object to him. professional, he's clearly a worker and a furious self-promoter and that's that. he's not a lyrical mastermind or anything like that.
so as a tip of my hat to my grandmother, who is not a Rick Ross fan AT ALL, but who likes positivity, here we go with…
13 REASONS WHY JANKLOW IS WILLING TO ADMIT RICK ROSS MIGHT NOT BE ALL BAD

GAZE UPON THE GLORY OF THIS BEARD
13. occasionally, he actually makes music that doesn't suck
some things run against this: he's been very prolific (which is not something in favor of minimizing the shitty music you make) and his strengths clearly run more towards "picking some quality production and collaborators" and not so much "writing some damn lyrics." that said, if you ARE good at picking production/collaborators and you keep cranking out tunes, you'll occasionally stumble on some solid material. i happen to think Port Of Miami (this is the Ross album i admittedly own) is overlong and bloated with sub-par material, but i wouldn't own it if "Push It" and "I'm Bad" weren't kind of my jams.
12. he rocks a high-quality beard
there's not much else to say here: the man rocks a beard of impressive size and texture, and i stand impressed with it. in fact, i can probably think of people who are not big rap fans and certainly not big Rick Ross fans who would STILL acknowledge that Ross sports a fairly impressive beard (J.Miles springs to mind). look, we're not talking about Civil War era beards circa Gods and Generals here, but that's a bygone era when men sported beards so impressive they were capable of stopping space and time (hence Stonewall Jackson's impressive run in combat, despite his intense religion-based insanity), and that era isn't coming back. Rick Ross simply sports a high-end beard meant for our modern times. it might pale a little in comparison to his MMG colleague Stalley's, but come on, more than one man at a time can have a cool beard.
11. he seems to actually promote artists signed to his label
look, he COULD be fucking them over financially (i consider that very likely). and he CLEARLY assisted in fucking over my boy Pill, although we should admit that Asylum seemed to have something to do with that. but while a lot of artists seem to pull in artists with a buzz and then do nothing with them (i'm looking at you, Young Jeezy, and what you did to my hero Freddie Gibbs, although a LOT of artists seem to do this), it's also fair to say that Ross really does push his guys: he's released two MMG compilation albums that gave out some shine, and both Wale and Meek Mill have gotten releases (Meek Mill also being a guy kept on the bench by another notable artist previously). now this may fade out as i think MMG is losing some steam, but i can't hate on the fact that Ross seems to have legitimately given a fuck about his people.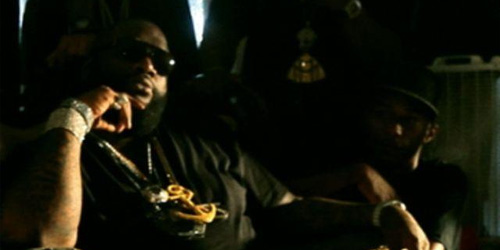 honestly, it's all for the best that he stays seated all the time: he doesn't want to exert himself into a three-seizure day, and i don't really want to see him moving around
10. his predilection for staying seated as much as possible cracks me up
i first noticed this during his video for "MC Hammer," where Ross dances FURIOUSLY despite being stationed in a chair; granted, it's lazy as hell to make fat jokes about a fat man who does his dancing while seated, but that's immediately where my mind went. it was HILARIOUS. and then just the other day, i'm checking out this video for Pusha T's song "Millions" (which features Rick Ross), and what do i see? Rick Ross dancing while hanging out in a chair. now, it's a little overshadowed by Pusha T's insane level of dancing (this video sadly makes me suspect the artist formerly known as Terror might have a coke problem), but it's still seated dancing. and i love it for its pure shamelessness. and speaking of "Millions"…
09. his solid chemistry with Pusha T…
i don't like Rick Ross that much, but i love Pusha T, and on the last couple of releases from said Pusha, Fear Of God/Fear Of God II (there's a reason why i lump these as one release) and Wrath Of Caine, Rick Ross has shown up (cue Pusha's "EGHCK" ad-lib at the mere thought) and, most shocking of all, featured adequately on probably the best tracks from each: "I Still Wanna" from the former and "Millions" from the latter. now, okay, these songs have solid production (Lee Major and Southside/Kanye West, respectively) and are essentially held down by Pusha T (and, to a less extent, Ab-Liva on the former track), but i cannot deny that Rick Ross showed up, did his thing, and not only did the songs not collapse under the proverbial weight of his awfulness, but they actually turned out well.
08. …as well as with those other aforementioned collaborators
ultimately, i may think Ross is fake as shit and a poor rap artist, but he seems to work with a lot of people i respect, and there has got to be a reason for that. sure, there's got to be an element of embracing the commercial aspects of a turbo-popular rap artist that even those i consider above reproach are going to find hard to turn down, but still, he's managed to hang around for a minute now and ever expand the number of artists he's done SOMETHING with, so i have to consider the possibility there's a LITTLE more going on there than "well, i guess we can make a couple of extra dollars by throwing this crab meats eating fool on a couple of our records."

this actually qualifies as pornography for Rick Ross
07. as far as i can tell, he's yet to sing on any of his releases
which matters to me because, damn it, if there's one thing i DON'T want from rap artists, it's awful attempts to sing. i don't care if you can sing a little or if you're trying to pull off some bullshit about how this is an emotional topic and thus you feel compelled to sing and blah blah blah, i don't want to hear that nonsense. period. now, it's never going to be enough to turn me off from some artist i really do like, but it's definitely a deal-breaker for artists that don't mean shit to me (i'm looking at you, French Montana, as you are goddamn terrible in every respect). but as far as i can tell –and please, someone, prove me wrong– Ross has never sung on any of his songs (or on anyone else's song). and i give credit where credit is due.
06. the whole "crab meats" thing
search Google for "crab meats" and you'll see Rick Ross results immediately; you might need to run with "crab meats" in quotes, but either way, i think you get Rick Ross results very quickly. the joke: Rick Ross dropped the line "used to run the street, young nigga bare feet/now i'm in the suites and i'm eatin' crab meats" in his song "Mafia Music," and his use of the phrase "crab meats" has become an ongoing way to generically mock the man… and it never, ever gets old. well, at least it never gets old as far as i am concerned, and isn't that what really matters?
05. he clearly has a work ethic
there's a few artists who i don't really love that much (if at all) but whom i have to respect for the fact that they get in the studio and produce: Tupac probably pioneered this concept, as i was never a huge Pac fan, but remain staggered by the amount of posthumous records he made possible by grinding out tracks; Lil' Wayne (who i don't care for) was once much the same, and i think it's fair to throw Curren$y (who i am mixed in opinion on) on that list, given his steady stream of releases. Ross isn't necessarily as prolific as those guys, but since the time Port Of Miami dropped in 2006 until 2012, the man's put out 5 albums, 2 compilation albums for his label, a fistful of mixtapes, and countless gust appearances. i don't have to like much of that output to admit that the guy at least puts in the hours at his job. there are a lot of big stars who feel less motivated.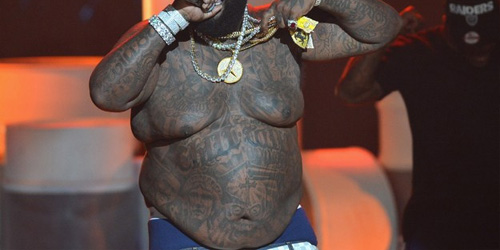 some things, you just can't unsee
04. any man who loves Scarface this much can't be ALL bad
granted, it's not like a love of Scarface is anything unique to Rick Ross, and as a Miami-based artist, i figure it's to be expected. but come on, there's a reason why everyone loves Scarface: it's fucking AWESOME. and ultimately, our shared love of this classic movie is probably some common ground for Rick Ross and i to share without anyone getting hostile. and Rick Ross clearly loves it: he sampled it and its soundtrack for various purposes on his first two albums, and i have to presume his tales of being a cocaine kingpin are less "shit i did in the streets" and more "shit i saw Al Pacino do in the movies." but maybe that's just me being negative?
03. his total embrace of his awful, awful physique
granted, i really, really wish he would keep a shirt on at all times, but i have long felt that way about many artists who have better physiques than Rick Ross. the thing is, though, i think even HE knows he's fat and disgusting and he just doesn't give a shit about feeling bad about it. i would never, ever want to compare Ross to the Notorious B.I.G. (a man who could, you know, really rap), but they do have a similar embrace of embodying the dynamic that led Biggie to declare himself "heartthrob never, black and ugly as ever." this is an embrace i can respect.
02. the release of Gunplay onto the world
internet dudes seem to currently love Gunplay as much as they once loved the Clipse back in the day when their brand of coke rap had the internet going nuts, and since we're here on the internet… seriously, though, just for "Bible On The Dash," i can't hate on Gunplay. and even though i sort of suspect Ross was secretly trying to slide his little MMG group Triple C's aside in favor of all these higher-profile artists he's subsequently signed, he's still allowed this ridiculous maniac to prosper and make records. and for that, i give him credit. i do note that i consider this different than actually promoting artists like Meek Mill and Wale because while those are the kinds of guys who had a buzz and could thus have been shelved or pushed, i can't remember ANYONE giving a fuck about Gunplay before Ross gave him a push.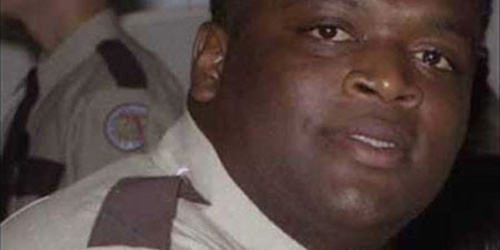 like i said, absolutely SHAMELESS
01. his absolutely SHAMELESS state of denial
so, long story short, Rick Ross once worked as a correctional officer, and while many (if not all) rap artists exaggerate (if not completely fictionalize) their backgrounds/criminal histories, claiming to be a multimillionaire drug kingpin while ACTUALLY have worked as a correctional officer is an incredible contradiction. and accordingly, Ross has been attacked by rivals and media for this … only to completely deny it for some time, before moving on to a more current "it was my legit job while drug dealing/break from the hustle" claims.
now, first i found this infuriating because of the lies involved, and THEN i found this infuriating because, hell, we all know rappers are storytellers and none of them are drug kingpins, so let's just admit it. but now? i am just stunned that he blew this off and none of his fans seemed to mind. not one person i know stopped listening to Ross or buying his records as a result, and i cannot think of any artists who stopped working with him. and all i can say about this now? "damn, well-played."
and there we go! now i shall go back to hating on Rick Ross as per the normal state of affairs.