after last week's Irishman-provided tale and this week's close-out, it might seem like i have abdicated a lot of the work for this "website" to my Irish colleague, but unfortunately, that is not the case … and thus we have another week of the same old, same old bullshit from your hero. here we go!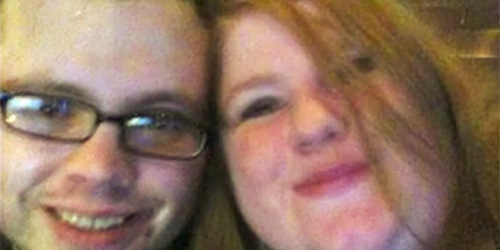 who would have thought this loving portrait would conceal a future of testicle twisting and attempted female-on-male rape
Heather Hayes arrested after allegedly attacking boyfriend Eric Zuber for choosing Xbox over sex
"Heather Hayes is missing two big things in her life: Sex and pants. But she has something no one else can take from her: An arrest record."
very witty! or not. but still, look, i understand the basic concept for men is that sex overrules Xbox, or, to extend it, overrules everything else beyond Xbox, but i am not convinced this is actually true. even leaving aside the fact that i am a prude and everything, what if the comparison isn't just straight-up "sex versus Xbox," but rather, really BAD sex with a really GROSS woman versus an awesome session of gaming on an Xbox? i think we see why one could choose the way this "Eric Zuber" did, especially considering, well, the rest of this article.
slight tangent: i always, ALWAYS find the way "Xbox" is written to be annoying, as well as the fact that my computer actually acknowledges that "Xbox" is a correctly-spelled word. i'm not saying i have a better way to spell it (well, okay, maybe "X-Box"), i'm just saying that it secretly drives me nuts.
"Police in Lansford, Pa., arrested Hayes at a convenience store on Feb. 26 for allegedly attacking her boyfriend, Eric Zuber, who had spent the previous two days playing Xbox with his friends rather than having sex with her, according to msnNOW."
however, i am now confused as to who to root for in this sordid mess, because his decision was to spend TWO DAYS playing Xbox with his friends? i am going to need to know what kind of work schedule this gentleman has before i am willing to continue to give him a pass. then again, i'm not saying i have never taken leave to nerd it up with a video game, so…
"Zuber confirmed to investigators that he turned down her request. At that point, he claimed she started slapping and punching him on his head and back, and also bit him on his left forearm. Then she grabbed his testicles and twisted, according to Inquistr.com."
let me tell you something: if the lady in question is punching you, biting you AND trying to twist off your testicles? yeah, it might be fair to replace "request" with "raging, crazy demand from a sex-crazy woman." i don't think it's an indication that you SHOULD have had sex with her, just that i would not call it a request.
"Zuber managed to escape and run to a convenience store to call 911. Hayes followed, but in the heat of the moment, forgot her pants. When asked how that detail got skipped, Hayes told the arresting officer that she had been anticipating sex and didn't want to waste valuable time going upstairs to get pants before following Zuber to the convenience store, according to TNOnline.com"
well, frankly, that seems kind of bogus. he's been putting you off for days, but you were expecting sex RIGHT THEN? also, let me say this: time spend getting pants that would cover your shame should you choose to rush out of the house in an effort to physically force your boyfriend to have sex with you is NEVER a waste of valuable time.
"Hayes was charged with indecent exposure, simple assault, open lewdness, and harassment."
a solid list. but you know, in light of what we've just heard, where Hayes was physically attacking her boyfriend and trying to coerce him into sex… shouldn't she have been charged with attempted rape?
"She's not the only woman who's gotten bothered when a man wouldn't notice she was hot and bothered. Last month, a woman in Warwick, Australia, was arrested for attacking her boyfriend for masturbating. In April 2012, there were two major cases of horny women scorned: South Florida's Stacey Ortiz was arrested after allegedly attacking her boyfriend who refused her sexual advances. That same month, a man in Munich told police he fled from an apartment after a woman demanded too much intercourse with him."
so, essentially, we close the article out with a declaration of "bitches be crazy" since, you know, there's no information on those stories unless you follow all the links and, well, who wants to do that? although the one about the Australian woman attacking her boyfriend "for masturbating" seems like it might have been justified. it seems a little rude, to be honest.
now, speaking of shameful, shameful people…

not pictured: JaMarcus "Bad At Football" Russell
former NFL quarterback Jeff Garcia is tutoring Mark Sanchez, JaMarcus Russell
this is one of those stories where i'm not sure if everyone will find it as outrageous as myself and the Irishman, but then again, we have respectively suffered through the sadness of the experiments to start Russell and Sanchez at quarterback in the NFL. i think it's fair to say that, in both of those cases, mistakes have been made.
"As New York Jets quarterback Mark Sanchez gets set to play in the West Coast offense under new offensive coordinator Marty Mornhinweg, the 2009 first-round pick out of USC is being tutored by former NFL quarterback Jeff Garcia, reports Jim Corbett of the USA Today."
now –and i am not saying this simply because it's my understanding that my precious Raiders were once spurned by Jeff Garcia– while it is good to see that Sanchez is concerned about improving his game, is Jeff Garcia really the man to direct this improvement? granted, sometimes a guy who hasn't played at the highest level can coach someone up to the highest level, but still, we're talking about Jeff Garcia. i am a little reticent to assume this is the best of all possible matches. let me note that the next paragraph then goes on to talk about Garcia's career at length while mysteriously lacking any mention of notable success he's had. SO IT GOES.
"Sanchez will be working with a third offensive coordinator in as many seasons (Brian Schottenheimer from 2009-11, Tony Sparano in 2012). With the new collective bargaining agreement scaling back the amount of time players and coaches and can work in the offseason, working with Garcia now can help prepare Sanchez for the OTAs and mini-camps as he enters his fifth, and perhaps most critical, season in the NFL."
which is weird, because while i guess it's cool that Sanchez is CHOOSING to do this work in the offseason, as opposed to being FORCED to work out at the whims of your team, i still cannot help but wonder if minimizing mandatory offseason workouts wasn't, you know, based around health-related reasons. anyway, it all sounds good, but this is still yet another coordinator-type person, even if he's trying to prep Sanchez, right?
"Garcia was in the NFL as recently as 2011, but is now a partner of Test Football Academy and is the "offensive coordinator" at their San Diego location. (Former NFL quarterback Chad Pennington is the "offensive coordinator" in their Florida location.)"
seriously, though, Jet fans, how much more awesome would it be if Chad Pennington was the one instructing Sanchez? because i think we can all agree that he, at least, played as hard as he could for the Jets, despite his incredibly fragile body.
"Another one of the pupils working with Garcia is 2007 first overall pick JaMarcus Russell, whose struggles on and off the field saw him washed out of the league by 2010. Russell, who turns 28 in August, is attempting an NFL comeback this offseason."
ah, JaMarcus Russell: a top-10 colossal failure whose jersey i own for some reason. i guess it was a good deal? because it's not like the man ever did something awesome that made me say, "hey, i ought to commemorate the success of the Oakland Raiders thanks to JaMarcus Russell that i just witnessed with the purchase of a jersey that celebrates the man's work!" i DID see him eat Skittles, though, so it's likely that is what i would have bought if i was trying to commemorate the man's work.
""The plan right now is to continue to prepare him for another month and put together a pro day where teams can come and see JaMarcus," Garcia said. "Granted his back is against the wall. This is a situation where if he doesn't do it now, it may never happen. But if you look at where he was two months ago to where he is today, he's come a long way in demanding more out of himself than he ever did.""
sadly, this is all 100% accurate: i'm not even mocking JaMarcus, just stating a fact.