you know, i listen to a lot of different kinds of music –except jazz; i just can't get into jazz– but as we all know, my primary musical tastes generally return to hip-hop no matter how many folk rock or soul records i listen to; even Dean Martin is no match for it. but most ridiculous of all, despite the fact that my favorites of the genre are pretty well known (i believe this website has a tag just for articles even loosely connected to Ghostface Killah and i believe my house features a swearing doll version of the man), there is one particular song that i consistently return to as my all-time favorite: Cam'ron's "Down And Out."
very quickly: no, i am not really a Cam'ron fan; yes, it's produced by Kanye West (in his pre-turbo-fame, sped-up soul sample days); no, J.Millz doesn't want to see me posting about rap music; yes, i am doing it anyway. and that is why this week's update shall cover…
13 OBSERVATIONS FROM JANKLOW UPON VIEWING CAM'RON'S VIDEO FOR "DOWN AND OUT"
a couple of quick notes:
–i assure you that i have gotten into legitimate heated debates about the excellence of this song (case in point, quoting this update: "i have, on occasion, been on the phone with someone, heard this song come on, declared this song to be the greatest rap song OF ALL TIME, and then, when they loudly protested, turned the stereo up and jammed the phone against the speaker"), but i will say this: it's my favorite song. i'm not arguing it's the Best Song Ever, or the best rap song ever, or the best lyrics or production or anything else. JUST THAT I LOVE IT SO MUCH THAT IT HURTS;
–i have never watched the video for this song before, which sounds weird when you consider that i have listened to this song at least 13000 times, but i guess i'm just not a big video guy? i accept that explanation;
–apologies in advance for the sizing on the images. it's just the way things worked out, but yeah, it IS annoying, isn't it?
now here we go!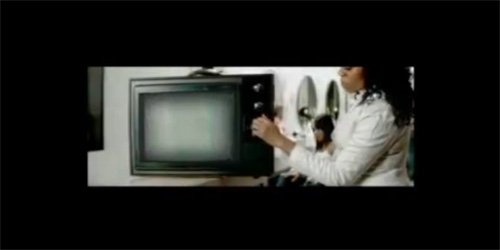 00:01: let's be clear: whatever Cam'ron's other failings are –and they are numerous, starting with the regrettable cover for Confessions Of Fire— he excels at just being ridiculous. he furiously rocked the color pink, he made the movie Killa Season, and he totally steals Paid In Full away from better actors by doing less "acting" and more "being Cam'ron." so it is no surprise that when i see this video kick off with some beauty shop worker turning on a little shitty television version of Cam'ron, i think two things: first, "what the fuck is this?" second, "oh, right, Cam'ron at work."
00:14: i kind of miss this era of Kanye. you know, where he's not a star and he's surrounded by all these rappers who are the stars (and in most cases can still out-rap him). don't get me wrong, he's definitely progressed as a rapper and he makes better music now than he did back then; i still love all of his albums (well, love might be too strong a word for 808s & Heartbreak, but the rest of the albums remain stellar), but i freely admit that My Beautiful Dark Twisted Fantasy is the best of all his work. ultimately, though, i still miss exuberant youthful Kanye. call me nostalgic.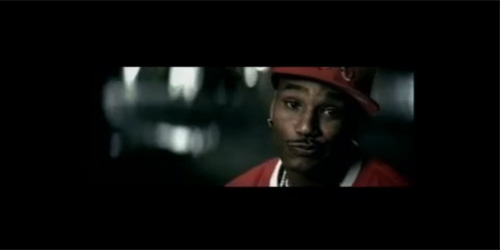 00:37: don't get it twisted: Cam'ron is the king of the smug facial expression. it's not QUITE at the level of the spammed-all-over-the-internet "you mad?" image, but in a pinch, this will do. it's almost like he's fully aware of how ridiculous (in a good way) the whole "drinking sake on a Suzuki/we in Osaka Bay" scenario is.
00:58: thinking back to the days when Bill Cosby lost his goddamn mind (to the extent that Bill Cosby can lose it) simply because his son saw a raunchy Eddie Murphy show wherein Eddie used PROFANITY, i cannot imagine how mad Cam'ron's "i feel like Bill Cosby, pouring in the pudding" would make him. luckily, though, i imagine that rap music is one of those newfangled things that Bill Cosby doesn't really understand, if he even knows that it exists at all. i've had my grandmother ask for an explanation of hip-hop and be COMPLETELY befuddled by the concept, so i figure Bill Cosby is sort of like that.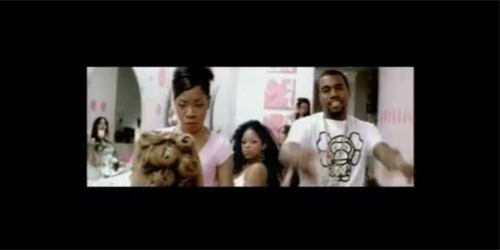 01:13: fundamentally, i don't really like it when the rappers who aren't tough act like tough guys (yes, yes, i know rap music involves complicated and awkward discussions of "realness" and the like), so i love that we leap immediately from Cam'ron's drug-dealing-and-violence-committing scrapyard posturing to circa-2004 Kanye bouncing around in that beauty shop in a goofy t-shirt. now THAT is what i call "juxtaposition." i'm not going to comment on how these ladies seem completely unimpressed, because that might sound a little mean.
01:23: yeah, yeah, the "their coochie the juicest" part of the chorus is pretty terrible. it's the single greatest strike against an otherwise stellar song. seriously, it boggles the mind that someone intentionally wrote that lyric as part of a song, even a part as mindless as a chorus. but let's move on!
01:38: a considerate Cam'ron begins to pantomime the specific steps his ladies need to take, and that's helpful in theory, but i think "open vagina" is a pretty straightforward command. if you're having trouble working out what Cam'ron needs you to do, you may have bigger problems in your life than merely being one of Cam'ron's motorcycle-riding jump-offs. cut to a picture of Cam'ron riding on a motorcycle BEHIND his lady, and the contrast of "spitting hyper-explicit lyrical sex instructions" and "riding what is traditionally termed 'bitch' on a motorcycle" completely blows my mind.
01:44: simply the high point of the song for me: "you got pets? me too: mine are dead/fox, minks, gators, that's necessary/accessories, my closet's a pet cemetery/i get approached by animal activists/i live in a zoo/i run scandals with savages." and this is where i stand up and begin to slowly, slowly clap because i just love this track SO GODDAMN MUCH.
02:05: so this is the part where Cam'ron lists off his war-making equipment: old Timbs, battered boots, hand grenade, goggles, a parachute. the best thing about this list? that while there is somewhat generic gun talk during this song, this list gives us the mental image of Cam'ron prioritizing goggles and parachutes above any kind of firearm. true, he IS packing a hand grenade, but this is not typically the sole armament you'd want to bring to a gunfight, and it's certainly a far cry from the typically stuff rappers lovingly describe (presuming they're gun-loving rappers, of course; not EVERYONE is).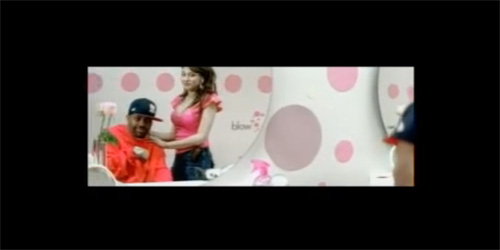 02:22: for the record, Kanye West is CLEARLY better suited to hanging out in this beauty shop than mean-mugging in that scrapyard with Cam'ron. CLEARLY. so what do you say we just leave him right where he is, guys? the ladies are clearly starting to warm up to him… and whoa, here's Damon Dash! so, yeah, Damon Dash: i get that Cam'ron was his little buddy, but at this point in time, does anyone ever look back at see Dash in his heyday and NOT think, "you know, in retrospect, Damon Dash looks like a douchebag?" i admit this is heavily based on after-the-fact knowledge of how Damon Dash grew up to be a failure –he WAS considered cool and successful at the time– but still. and he really, really looks like he's TRYING to appear foolish here.
02:45: at this point, something cruel happens, for while there is no indication such a thing is going to happen –the video is exclusive titled as that for "Down And Out," suddenly everything switches over to "Get 'Em Daddy." now, i know this was the b-side to the single for "Down And Out" and promotion is promotion, but i do not think i am going to like this, even if Cam'ron starts it off with his traditional ridiculousness. i've already sighted Juelz Santana, and if there's two things i do not like, they're Juelz Santana and Juelz Santana. also, something something bandana.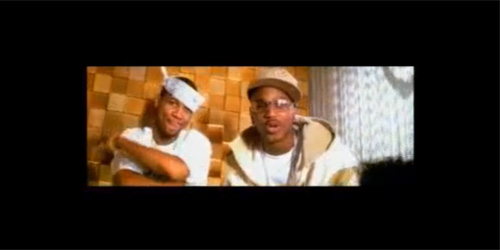 03:00: fifteen seconds in, and i am already remembering that i don't really care much for "Get 'Em Daddy." and look at all that damn Santana!
03:41: and man, is that "get 'em, daddy" sample annoying! see, this is what happens when you trade in classic Kanye West production for whoever the fuck this I.N.F.O. character is. i scanned a list of his production credits and while i cannot swear i have really, truly listened to everything on it, it remains, in my opinion, a distinctly unimpressive list. and frankly, i expect much better from Cam'ron. "Down And Out" has truly ruined me for the rest of his music.
all in all, it was good times until that surprise twist. oh, and speaking of a swearing doll version of Ghostface Killah…
and if you were concerned that an actual Ghostface doll WOULDN'T pose the question "remember when i long-dicked you and broke your ovary?" … well, don't worry, it absolutely does.