so my mildly frustrating week was capped off by a truck driver sent to deliver some large boxes to me driving them (with some kind of forklift-type device) out the back of his truck and crashing them violently to the ground. this in and of itself is probably not THE biggest outrage of the week, but when all the little frustrations add up… well, let's just say that i thought it would be a good week to take to the internet to see if the world was possibly not as messed up as i feel that it is currently. so, let's see where the internet takes us!
let's start things off with one of the most classy events i happened upon: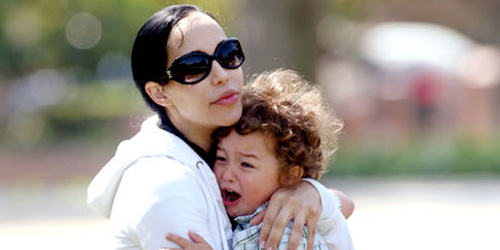 this picture does seem to sum up her dynamic with her children: her time seems to have been spent preparing herself for attention, while the children are unhappy for obvious reasons
octomom Nadya Suleman says she 'hates' her children, contemplates suicide: "they disgust me"
ah, well, a sentiment like that must surely be coming from someone who's of consequence but who, for whatever reason, has decided that she does not need children in her life. oh… you say this was actually said by some no-talent sack of meat who's best known for filling her womb with eight simultaneous babies thanks to science and then dropping them all at once to some degree of attention despite the fact that she already had another six children and lacked a job or any other means of support?
oh yeah… i think i remember that. in fact, i'm pretty sure she gave me grounds to go into a Bill Hicks bit about figuring out this "food/water/air deal," which i really do enjoy, so i have to grant her that. but really, while i hate to quote some kind of tabloid (even second-hand), well, the outrage is just too tempting.
"Octomom Nadya Suleman isn't winning any Mother of the Year awards any time soon."
this is, to say the least, not exactly information i needed any news organization to develop for me. but i digress!
"The woman best known for having octuplets in 2009, in addition to her six other children, has given an interview in the new issue of In Touch Weekly, in which she admits some rather disturbing feelings toward her brood. Feeling overwhelmed by the burdens of caring for a large family, Suleman not only says she wishes she never had them, but admits to have contemplated suicide. "I hate the babies, they disgust me," the 36-year-old single mother told the magazine."
okay, so i have to consider the possibility that this is all a scam to get paid twice: once by In Touch for making outrageous remarks in print, and again once there's a backlash that gets her some additional attention and hopefully a dollar or two along with it. still, the fact remains that a repugnant person like her seems perfectly likely to have said such remarks, so i am going to continue to assume the worse about her (and, by extension, all of humanity).
"She also unleashes some vile words for her older children. "My older six are animals," she says, "[They are] getting more and more out of control, because I have no time to properly discipline them.""
ah, well, it's good to see that such a well-balanced, responsible person is the one responsible for the care and upbringing of fourteen children. no, wait, what i meant was, "jesus christ, could the government just seize her children already?" although i guess the inability to see how taking care of fourteen children could be a massive burden only exists in the kind of person who goes to a doctor and says, "could you please stuff my uterus full of as many fetuses as is medically possible?"
"Though it was once her dream to have a big family, Suleman's reality has turned into a nightmare now that she is broke and without hope. "The only way I can cope is to lock myself in the bathroom and cry. Sometimes I sit there for hours and even eat my lunch sitting on the toilet floor. Anything to get peace and quiet," she says."
well, another solid coping method might be suicide. but also, so not only are you a) in possession of too many kids to take care of properly and b) not working, but c) you're ALSO spending "hours" hiding in the bathroom instead of dealing with the children? no wonder they're animals.
also, as an "i am totally an old man"-related note: why did the dream of having a big family not at all involve a) a husband/boyfriend/whatever with b) a job? isn't the whole point of dreaming of a big family ALSO including the part where they are supported comfortably?
"Photos accompanying the interview are likely to raise concern with Child Protection Services. In addition to Suleman's house being in run-down condition, one child is seen eating dry-wall."
i'm not convinced that said photos WILL raise concern with Child Protection Services, as it strikes me that everything about this woman's life should have raised concerns with them, and yet to date they seem to have seized exactly zero children from her home. or, as far as the public knows, done anything else.
"Suleman says she feels so defeated, she's considered putting an end to it all. "Some days I have thought about killing myself," she says. "I cannot cope.""
DO IT
"Though she insists she still has love for her children, Suleman looks back on the decisions she's made and says she wishes she never got pregnant in the first place. "Obviously I love them – but I absolutely wish I had not had them," she says."
one, did you not look back on any decisions with regret after the first SIX children? two, ma'am, no, i do not think it is "obvious" that you love your kids. for one, i don't think you brought them into a situation that bespeaks to someone loving their children. for another, people who love their children at least make an ATTEMPT to raise them properly, by doing things like "getting a job to support them" and "not hiding from them for hours in a bathroom" and "saying they disgust me to national tabloids."
"Suleman has been vocal about her struggle to support herself and her children. The unemployed mom has been facing foreclosure on her La Hambra, Calif. house since last year, and is currently on welfare."
ah, yes, in another case seemingly designed to make politicians cry about cutting it, Suleman is on welfare. sometimes i suspect that only ridiculous scenarios involving welfare are ever publicized, but then i think to myself, "oh, self, must you be so cynical about everything?"
""My bank account is overdrawn by $300 and I have no money to pay for the children's school, food or the mortgage," she confesses. However, Suleman may soon get the chance to increase her income. She recently filmed an episode of a new HDNet celebrity dating show called "Celebridate," in which cameras will follow her as three regular people try to win her heart."
you know, i try to be sympathetic to people who have children they love but are struggling with financial hardships, because it's a common situation. but somehow i suspect that the average person in that situation didn't use frozen embryos to pop out fourteen kids. hell, i guess we should just be glad that she hasn't sold any of them to Russian pornographers or something.
disgust for humanity: RISING. okay, well, let's try another story.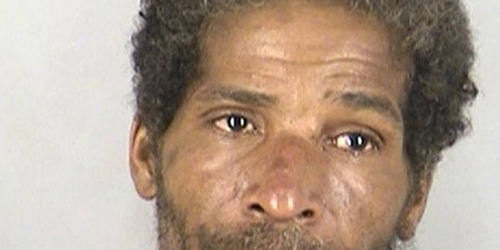 if he should happen to be sexually assaulted by a cellmate who ALSO claims that he thought he was having sex with a dead boy, that will officially qualify as ironic
man accused of sexually assaulting unconscious woman on KC sidewalk
okay, a pretty bad start, i know, but surely nothing spectacular, all things considered? well, don't worry, this is about to get ridiculous directly.
"Jackson County prosecutors today accused a 48-year-old man of sexually assaulting an unconscious woman on a sidewalk in broad daylight Wednesday and later telling police, "I thought that lady was dead.""
so not only is it bad enough that this gentleman apparently thinks it's okay to sexually violate a corpse (which is most assuredly NOT okay) … but this also raises a moral dilemma: does the fact that your victim is a corpse make it at all better that you're out that sexually assaulting anything you can find to assault? it's got to be better than assaulting a live person, of course, but it's still pretty despicable.
"Prosecutors charged Melvin L. Jackson, of Kansas City, with a felony of sexual assault in connection with the 11:30 a.m. attack in the 3400 block of Troost Avenue. The victim told police she was walking Wednesday when she felt dizzy and light-headed, so she found a shady area and sat down. She later lost consciousness and said she awoke to a witness yelling, "Help her! Get up off of her!" The victim said she didn't remember getting assaulted, but she noticed her underwear had been removed."
one thing that this article will not resolve is the question of "what does this lady mean, dizzy and light-headed?" this description seems suspiciously like that of someone who's gotten drunk and passed out somewhere, and from there we'd go to the "was this woman REALLY assaulted" question. but then again, this was at 1130 in the morning, which isn't really the time when woman are passing out drunk in the shade. come on, investigative journalists, where are you?
"A witness flagged down a nearby police car, and the officer arrested Jackson, who was walking down the street with his pants unzipped, according to court records."
i am also concerned about the implication that both a witness and a police officer were right nearby this sexual assault and only the former spotted this sexual assault going down. i don't know, explain it away with some "line of sight" argument or something, i just don't feel good about it.
"When the officer asked Jackson about his pants, Jackson allegedly said he touched "a lady's leg," and "I thought that lady was dead.""
Jackson continues with his string of the WORST possible excuses. why are you admitting to touching a lady's leg when you could at least have claimed to have been checking on the woman? (unless that was what he meant by "touching a lady's leg," as if to see if she was conscious.) and again, why are you saying you thought she was dead as it it's totally cool to fuck a random corpse you found lying around on the street?
"The witness told police she saw Jackson having sexual intercourse with the victim, who was in the fetal position, after another witness brought the assault to her attention, according to court records."
also classy: a witness spotting a guy raping a woman (who he thinks is a sexy, sexy corpse) and rather than addressing the situation or getting the NEARBY police officer, just telling someone else about it. "hey, dude, i think i spotted a guy fucking a corpse. you might want to go check it out if you're into that kind of thing."
"When police tried to interview Jackson, he allegedly blurted, "Did that lady say I did something to her?" He later said, "I have the right to remain silent," according to court records."
man… when you've already admitted to trying to sex up what you thought was a dead body, you've already gone far too far to try and remain silent.
disgust for humanity: RISING. uh… well… what else do we have?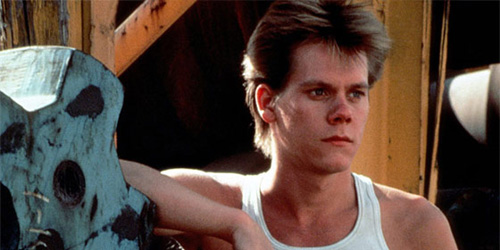 somehow this was NOT the bacon everyone was fighting over, which just doesn't make sense
grandmother assaults grandson with hose for eating too much bacon
and holy shit, it's not even the kind of hose you might expect someone to use for "corporal punishment" or "torturing a man in a South American prison" or whatever.
"Angered that her grandson ate too much bacon at breakfast, a 63-year-old woman chased the boy out of her Pennsylvania home and pinned him down on the front lawn, where she blasted him in the face with a garden hose, police allege."
i… i… i don't know that i even have the words for this. except maybe to say brief ideas like "grandmothers are the best people" and "this is what you get when you eat bacon." pinned him down on the front lawn? blasted him with a garden hose? FOR EATING TOO MUCH BACON? priceless.
"Marilee Ann Kolynych was busted Tuesday evening on endangering the welfare of children, simple assault, harassment, and disorderly conduct charges. Her grandson, 9, was not injured during the attack."
now, i am not a lawyer, this is true, but i want to say that considering the fact that no one was injured by this incident, and considering the fact that this incident is completely hilarious, i submit to the court that all the charges should be dropped and this woman set free immediately.
"In a Clifton Heights Police Department report, Officer James Press noted that the child "stated that he had been getting tortured by his grandmother…all day for an incident that took place during breakfast.""
isn't that kind of what grandmothers do? bust you doing something out of line (and possibly bacon-related) and then rake you over the coals for it (possibly involving torture) until you learn your lesson? i know i got punished by MY grandmother when i got out of line … although i was never one to gorge myself on bacon, so i guess i was destined for punishments that were comparatively light.
"According to Press, the matter involved the child consuming more bacon than anyone else, which angered Kolynych."
THE BEST CRIME
"A witness told Press that Kolynych chased her grandson around the yard before throwing him to the ground and "sitting on top of him beating him on his legs and spraying water at very close range into [the boy's] face." The child told cops that "the nozzle setting was on full blast.""
one, the fact that a grandmother is throwing this child to the ground tells me that SOMEONE needs to get a little more exercise. two, i love the way the witness adds "at very close range" to this description, as if a person sitting on a child and beating that child's legs could be said to be at any other range. three, i don't believe that the nozzle setting was on full blast. children are liars! especially children that eat all the bacon!
"The child eventually broke free and "ran across the street, using a neighbor's phone to call his mother, who was in the basement while the incident was taking place out front."
also, i know that many people would be sad that the boy's mother didn't notice what was going on and step in, but i am mostly sad that this attention-whoring child had to run to a neighbor's phone to call his mother instead of, you know, running into the basement past an old woman with a hose. pathetic.
"Even after the boy's mother arrived outside, a witness reported, Kolynych continued to chase after the child."
as well she should have, since it's not like this kid has denied eating all the bacon… or apologized for eating all the bacon… or at the very least, presented ANY evidence showing that he did not, in fact, eat too much bacon.
"Kolynych, free on bail, is set for a July 7 preliminary hearing."
at which time she damn well better be set free. NO JUSTICE, NO PEACE.
disgust for humanity: eh… low enough for this week. it'll have to do, i guess. unless…
… maybe there is a new gun?
why, yes, internet, there is!
luckily for me, a tiny little Polish C&R version of a Walther PPK or Makarov or whatever (i mean, it's different than either in notable ways, but this is essentially the family of guns we're talking about here, with this one being the Polish version of it) that arrives at my house in a little box will cheer me up regardless of who's hating babies or fucking corpses or EATING ALL THE BACON. whew!