okay, after many annoying evenings and/or tax-related shenanigans that have delayed this update, here we go: the running diary of the Running Man. or as i like to call it, "that movie with the electric dude who's always running around in his underwear trying to kill Arnold." i watched it recently with my sibling and my main thought was "wow, does this movie deserve a running diary update or what?"
preparatory information: once upon a time, there was an author named Stephen King who wanted to feel better about himself, and so he wrote some short novels and published them under the name Richard Bachman. now, these books were of varying quality (the Long Walk was great, the Running Man good, Thinner decent, Rage decent but juvenile, and Roadwork just … meanders all over the place), but two of them would later become movies: Thinner (which probably wasn't very good) and the Running Man. but somewhere along the way, the book version of the Running Man got … corrupted.
the book, you see, is a harsher view of a totalitarian dystopia, dated in some respects (the YMCA features prominently), weird in some respects (i am not sure how i feel about King's depiction of the struggles of the Boston ghetto), but fairly consistent and negative and realistic. or maybe just as realistic as science-fiction books about the future get, but still: there are no crazy Hunters (they're basically like private eyes or cops in the book), there's no cracked-out neon-coloration sense about the book's imagery, and so on. as for the movie? well, during once again to Wikipedia:
"The film, set in a dystopic year 2019, is about a television show called Running Man, where convicted criminal "runners" must escape death at the hands of professional killers. The film differed significantly from the novel; it recalls some scenes from a French film, called Le Prix du Danger, and a German film, called Das Millionenspiel, with a similar theme based on the short story The Prize of Peril by Robert Sheckley, about a television show where participants must escape killers live on television."
actually, that doesn't even describe it in NEARLY the insane fashion it should, because this film is ridiculous. i suppose the biggest note i should mention is that the Ben Richards of the book is an impoverished guy who goes on the show for the benefit of his forced-to-prostitute wife and sick-and-needs-medicine daughter, whereas the movie is going to have this crazy freedom-fighting subplot. yeah, exactly.
00:27: brief tangent as we get started: i REALLY like this totally futuristic font that we're seeing in the credits, and i think every film set in the future (or 2019, which we're almost at, creepily enough) should use this font. okay, let's focus on the movie.

oh shit… things are about to get seriously FUTURISTIC
00:57: ah, the back story laid out over a blindingly-red-to-black screen so that we understand how society was so terrible in 2017 that we needed this crazy game show (or series of game shows, to be accurate) to save us from ourselves. or something. anyway, this back story varies a little from that of the book, but it's not really the problem here.
02:08: in a classic flaw common to all sorts of science-fiction films, we have this advanced future where there's still some very awkward computer technology being used. case in point: whatever the hell is going on with this helicopter. i'll try and make this the only "dated look of the film" comment because i know the response: duh, janklow, the film was made in 1987. still, i suspect they're always better served to not show this kind of thing at all, or make it unrealistically good. it's the future! it can be unrealistic!
02:24: anyway, we rapidly go into the plot (Arnold as Ben Richards is told to shoot civilians during a "food riot" and declines and gets beaten by his colleagues) as Arnold tries really, REALLY hard to act here. although i am not sure how it's a "riot" if no one is armed and it's just women and kids that want food. lousy half-assed future riots…
03:51: okay, this is my token firearm complaint: why is it in half-assed action movies that organizations (in this case, the guards at this Wilshire Detention Zone) never have regulation guns? half of these guys have some M-16/AR-15 rifle, and the other half have Calicos (terrible in its own right). even if this is somehow due to the constraints of the prop department, could they not have somehow filmed in a way that would make it SEEM more logical?

no matter how bad the future seems, it can't be all bad when Yaphet Kotto is featured so prominently
04:20: it strikes me that my colleague J.Miles probably strongly approves of the fierce beard Arnold is rocking at this point in his stay in detention. too bad it won't last! luckily, Arnold will compensate for this by dropping one-liners furiously throughout this movie. he also shoots a guy with his rifle one-handed (at about 07:11), a feat i would like to see J.Miles replicate (only with an inanimate target, not some dude).
07:00: so after all the armed guards and collars-wired-to-explode (a common futuristic theme) and plots to escape from the detention zone and scheming with Yaphet Kotto and gunfights breaking out, this was about the point that i turned to my sibling and said, "wow, i totally don't recall there being this level of ridiculous back story in the Running Man." which was true. i've seen the film before so i SUPPOSE i vaguely recall it, but it always seems like this movie is about nothing but the game show nonsense.
08:39: a guy's head explodes from his restraint collar going off before the gang can deactivate it to escape, which makes it clear that the way you hack a computer in 2019 is to enter a legitimate security code that you happen to see, and then have it get "resisted" somehow (maybe by another guy on the same kind of computer ALSO entering a code), and then just hit the enter key many, many times until the hack works. the future, ladies and gentlemen! after this, i may want to waste the bad taste of this out of my mouth with the realistic computer shenanigans of say "Hackers" or "TRON."

okay, okay, i admit it: the future is clearly going to suck
09:40: despite the fact that we KNOW the film takes place in a terrible future, i am not sure Los Angeles looks worse here than it does in real life. also, i must admit that this film actually does have, no lie, some inspired casting, as seen here when we notice Richard Dawson is the host of the Running Man, Damon Killian. and he does a great job in the role, appropriately cheesy AND evil. Jesse Ventura is also a good pick for a steroid-enhanced doofus with the name of "Captain Freedom," but we can return to that later; the point here is that this is something NOT messed up in the film.
10:42: okay, you might not notice this on your first viewing, but the billboard/television that shows highlights from "the Running Man" is showing clips that happen LATER in the movie to characters who have not experienced them yet, such as when they fight Subzero or Buzzsaw. that's right: the future is so awesome that television shows the future! really, there's no reason someone couldn't have shot an extra 13 seconds of footage for use in that scene. terrible. there's some story explanation about all this building towards shutting down the network signal or something, which is lame mainly because we all know society won't be fixed by (temporarily) turning off a television.
12:57: note to self: Ben Richards has an awesome hardhat. i want this hardhat!
17:09: now, while i don't approve of apartments that don't have a security code change from tenant to tenant and i don't approve of these generally lame ICS uniforms, there IS one thing about the future that i DO approve of (mainly because i am into pain and suffering): Captain Freedom's Work-Out! (although evidence indicates it's not much of a work-out). just try and say no to this: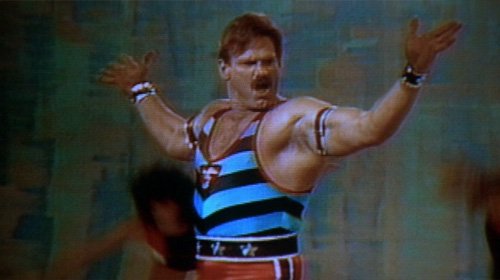 YEAH! YEAH!
22:07: Arnold appears wearing the single greatest outfit of all time. i am not even going to describe it, as i trust you will all recognize it when you see it. he's going to get captured and agree to be on the show the Running Man to save his friends… but for now, we can enjoy the promise of freedom his outfit portends.
29:41: so there's this sub-plot (well, that's not the word) with a bunch of guys theatrically gambling on the Running Man; i bring this moment to your attention to point out the awesome jacket the one guy is wearing. clothes are going to be so much more awesome in 2019!
34:37: while this lawyer has his moments (such as the "agree to disagree" part), i think we all know he deserves this stabbing. i am even suspicious that Arnold may have actually stabbed this guy in real life and the footage was simply used in the film. don't forget to send me a copy!
36:02: so the fake footage of Arnold killing people in the food riot is shown, and it raises some questions. a) why are people who are excited to watch a show where criminals are hunted and killed shocked by the simulated violence? b) why does a car exploding elicit such an emotional response? c) do the filmmakers not realize that part of the book's concept was that the upper/middle classes were fooled, but that the poor had a firmer understanding of society's issues and if so, do they not realize that having the poor guys watching the show hate on Richards kind of, sort of doesn't work?

who loves you, and who do you love?
39:04: i have to admit, when it's revealed that Arnold's friends are going to be thrown into the game after all, all i could think of was "what's the purpose of them appearing in such an incredibly uncomfortable and awkward fashion?" seriously, they're so contorted in those little jet-car things, it doesn't make any sense.
42:23: so Maria Conchita Alonso finds the raw footage of Arnold that will clear him… and it's kept in an unlocked file cabinet next to the fake footage? and not just destroyed? and, skipping slightly ahead, they won't find it and destroy it when they take her into custody, (presumably) search her and make her change into the futuristic jumpsuit? terrible.

here is (Professor) Subzero! (and his ridiculous groin protector.) now… plain zero!
43:38: stalker one is introduced: Subzero. now, two things. one, i couldn't recall this guy's name, and neither could my sibling, and all i kept saying was "it can't be "Subzero," that's a Mortal Kombat character." imagine my disappointment. two, i was joking about how Professor Toru Tanaka gets billed with "Professor" as part of his name … and here they go and make his character "Professor Subzero." ridiculous! so from here on out, i will be referring to him as "Professor Subzero," if only because it'll make me feel like i was right about the whole name thing.
44:30: "here in the locker room?" why is there a locker room full of half-naked dudes in this movie? there's a total of FOUR stalkers in the film. are these all the random biker dudes we see chasing around Arnold and friends briefly? what the hell? also, the concept of "400 game blocks" versus the entire world of the book (in which you can presumably really escape) is another reason this concept has been weakened. "anything can happen" in the 400 blocks … but you happen to wander into a skating rink with fancy goals for Professor Subzero? lame.
48:09: Professor Subzero, you can't even wound one unarmed guy with your bladed hockey stick on your custom staking rink before you get killed? also lame.
50:30: okay, i get that i am supposed to suspend my disbelief and presume that all these stalkers are bad, murderous dudes… and then Buzzsaw and Dynamo are introduced. Dynamo is not ever to be called a "hard-ass." Dynamo is terrible. look, let's have a quick graphical comparison.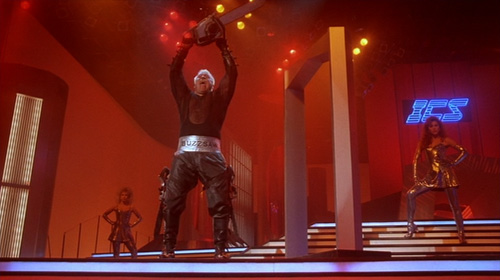 that stupid arch is totally done for
exhibit A: Buzzsaw. Buzzsaw is clearly a muscular dude who lifts motorcycles, hits his fans in their stupid faces, and attacks modern art with some supposedly awesome chainsaw. he might look like a shitty Hulk Hogan on steroids (or, i guess, more steroids than Hogan was on), and given how ridiculous and secretly lame these stalkers seems to be, he's not in good company … but he probably could beat up a guy or saw him to death or something. you know, if he HAD to.

clap if you love… DYNAMO! i trust none of you are clapping
exhibit B: Dynamo. basically, Dynamo is a fucking fat guy wearing a stupid fucking outfit composed primarily of Lite-Brite who sings fucking opera and shoots electricity at stuff, such as his sign. WHICH IS A TERRIBLE SIGN. and then while Buzzsaw will have a motorcycle to ride on, Dynamo will be tooling around in a fucking dune buggy. and while attacking people with a chainsaw while on a motorcycle is foolish, it's at least imposing. no one is threatened by a fat dude in the worst, most plastic dune buggy ever. Dynamo is the worst thing i have ever seen.
59:13: so not to get totally distracted here, but i find myself wondering what the hell is in this "Running Man home game." i would totally play that board game if it could be purchased.
60:00: so Weiss finds the OMG top secret network up-link interface (complete with "hexagonal decode system")… which of course makes me wonder why the network didn't install a locked fucking door here. or at least something to make it seem like there was once a locked door? maybe Dynamo's stupid car could have smashed into a building or something? this is just lazy writing.
62:19: much like that one South Park episode taught us, here's the deal: i don't care how much of an annoyance a stalker is being, Arnold, you do not chop him right in the dick with his own chainsaw. or ANY chainsaw. you can still kill him and hit him with the same one-liners; "keep it" in response to "i'm gonna make [this saw] part of you" and "he had to split" work regardless of where the chainsaw goes. IT IS NOT COOL.
62:50: hey, you know what's NOT the stealthiest of attire? a glowing fucking Lite-Brite suit!

NOT VERY SNEAKY, ASSHOLE
seriously… i hate Dynamo so much. and computer hacking that is just "hitting buttons." but mostly Dynamo. especially when he calls people "my love." the only good thing about him is when he's getting insulted by Arnold. or when his dune buggy (which reminds me of those shitty Japanese WWII tanks that GIs beat up by hand on at least one occasion) is wrecked and he's begging for mercy.
66:13: Jim Brown (as Fireball) is to report to wardrobe at once. really, what about this hairdo is necessary for either his character development and/or the plot progression? it's just insulting. and then Yaphet Kotto dies. fuck, awesome black dudes are just getting shit on furiously in this portion of the film. although if the underground has a broadcast center RIGHT near all this nonsense, how did they not find the almost-immediately-adjacent up-link before? terrible.
68:39: "i live to see you eat that contract! but i hope you leave enough room for my fist, because i'm going to ram it into your stomach and break your goddamn spine!" YES. also, at this point my sibling realized why i yelled this at her when she said we were going to watch the Running Man. this is easily Arnold's best line ever.
69:27: the major problems i have with Fireball are a) his outfit being so damn glittery and b) him "impressing" me by lighting paper dudes on fire. Arnold is not made of paper, Fireball. still… he's not an fucking fat guy covered in a child's toy. this has to count for something. still… who pitched this to Jim Brown? "hey, Jim, do you want to be in a movie where you're covered in silver glitter and start fires?" i would fear being beaten and thrown out of his house.

i at least consider it reasonable to picture Jim Brown killing the hell out of someone
71:16: this is where Killian's biggest fan, Agnes, uses the phrase "one mean motherfucker," which is supposed to make her the hilarious old woman of the film, but which i just find awkward. should old ladies use words like that?
73:29: seriously, Arnold, throwing slow-moving barrels at a dude with a flamethrower is your plan? what the fuck is this, Donkey Kong? and then we find the network killed the past winners, but left their bodies lying around with dog tags on them, as if no one has ever heard of a crematorium? even when there's a guy WHO SHOOTS FIRE on the payroll? RIDICULOUS. and then Arnold throws a flare at Jim Brown's crotch and everything goes downhill from there. what a hot-head.
76:59: the absolute best part about this outfit that Captain Freedom bursts in wearing and complaining about is that it doesn't even make sense and gets no explanation. he doesn't want it because it's not sporting … yet all it seems to do is be useless plastic that gets in the way. seems to me that if you're this turbo-awesome dude, Captain Freedom, it WOULD be sporting of you to wear a stupid, restrictive costume.

Jesse Ventura dressed as either a lame version of Captain Freedom or maybe just a Transformer
78:27: so i think this was the point where i turned to my sibling and said "what the fuck is with all these dancers again?" i sort of assumed that the opening dancers were like cheerleaders plus credits, but they're back doing a memorial dance in the middle of a show? this is so not the kind of thing anyone would ever put in a bloody, action-packed show. and then there's a weird sequence where Jesse Ventura kills a computer animation or something.
82:40: one thing i have learned is that the Steyr AUG is perfectly designed for sci-fi films set in the near future. it's a cool gun, but no one really adopted it and so it looks like something awesome from that near future. kind of like the P90s in Stargate, i guess. although i don't know what's up with this turbo-tactical Micro-Uzi that Maria Conchito Alonso is packing. that thing's just illogical. and then Arnold switches his gun for this terrible action-film MP5 with a crazy fake suppressor? and then there's more dancing? ugh.
88:06: yes, Dynamo, it IS funny when dudes beat you up and trap you in your car. but you know what? there IS something funny about a "dickless moron with a battery up his ass." and then you go to rape someone with the line "i'll show YOU dickless?" really? and then i have to see your jockey shorts? jesus christ, thank god you fucking die in this scene.

tactical Micro-Uzi? Lite-Brite suit and fluorescent mohawk? fat dude's revealing underwear? this is the worst thing i have ever seen
90:00: wow, there are a lot of theatrical flips and awkward grips on guns in this scene. this movie must have been filmed in the 1980s. also, i'm not sure why the appearance of Killian's bodyguard Sven would have made Killian feel better. Sven's not bigger than Arnold and is also packing a smaller gun, so what the hell?
92:45: and then Killian gets jammed into one of those rocket cars and shot into a tube in a way that kills him, and somehow this frees society. and then EVERYONE, from the poorest to the richest, start celebrating simultaneously. really, truly not joking about this. not even one rich guy appears to be thinking "i imagine this revolution will affect my finances." whatever, it's time to make out with your new girlfriend, Arnold. cue the awkward 1980s closing music!

something in your eyes just told me that this nightmare would end … and i have found a friend
seriously, this song talks about new starts and restless hearts and rolling the dice and no pain, no gain. it's the perfect ending to this mess.
the only real downside is that i didn't make my sibling pose for a picture in the "clap if you love … DYNAMO" shirt that i bought her. oh well, now that she owns such a classy piece of clothing, such things are inevitable!